----------Jan 29 th--------------
Weather still strange for this time of year - Low system coming up from offshore Mexico in January--- a tequlia express vs the pinnapple express that we'll probally get soon . Seas calm light southeast wind 3- 6 knts small wind chop with it . Water temps remains in the low 60
A look towards San Clemente Island Security shows Pyrimid Cove to be Hot" on Friday 8:30 am to 10:30 am then it looks open from then on through the weekend- go get em' JD
not much said on the radio today, the same chitter chatter on the whales finding and not finding them--and someone with dredge works moving rocks- made half dozen cast at the end of the day-- no bites but a rewarding crimson sunset.
---------Go Sea Hawks--------( only cause they got the name sea with them and they got a good team) Get your bets in early !
-------------------------- Wed's Reports -------------------
High solid overcast gray sky's, warm and pleasant- calm winds, seas and conditions- Tides beginning to fill again as the moon fills . one cast one maybe legal halibut-- coughing up a couple of 5 inch smelts
It doesn't come without it's trials and tribulations, evil insects and reptiles inhabit the surrounding flora and fauna- ah- but so do those strange fish desired only in wild dreams .
E-Mail this morning from our world wander Pete B.

JD, I just returned from an epic adventure on the Agua Boa River in the state of Roraima, the northern most and least populated state in Brazil. The fishing was very successful. I am returning with 4 pending IGFA World Records and 2 Peacock Bass over 10lbs which will qualify for the IGFA 10lb Bass Club. We fished out of the legendary fly fishing only Agua Boa Lodge. The guides, fishing, food and hospitality were superior, one of my favorite trips ever.
I fished very light tackle down there. The first photophoto is a 10 1/2lb Speckled Peacock Bass.The second is an Arawana that I landed on 4lb tippet on my 4wt fly rod (Pending World Record). The third photo is an Orinoco Peacock that I landed on 4lb tippet on my 4wt rod (Pending WR). VERY fun action!
A big bonus to the trip was the amazing birding. Huge Jabiru Storks, Roseate Spoonbills, Blue and Yellow Macaws etc...I identified over 20 species.
Great adventure!!!!!
Sleepy
~~~~~~~~~~~~~
Super Bowl Fuel Prices from Island Marine Fuel -Newport Beach - Get it while is still low priced-- ValvTect Premium Diesel selling for $2.32 a gal plus tax. - give them the secret password, " Mackerel" for the deal, 200 gal or more-- call  949-673-1103 for fueling arrangements

Island Marine Fuel is a CertifiedValvTectMarine Fuel Location
------------------------------------ Tuesday's Reports -------------
62 degrees, 62 degrees, 62 degrees, 62 degrees- the VHF radio's weather channel kept repeating from San Nicolas, Tanner Banks, Clemente buoys, off La Jolla, Mission Bay, Dana, Camp Pentelton, Newport , San Pedro and San Diego, all 62 degrees
Daylight's stretched on the sunset time frame from last Dec. 21st (first day of winter) with a rise at 6.53am, this mornings rise at 6:54 and sunset last Dec was 4:49 and today it's 5:19, we've gained a half hour of sunlight, more to come. Made three casts no bites -water looks good, emerald green -tides fair
First Fish Flags for local Angling Clubs are still open for Striped Marlin--the tunas and yellowtails should be gone by now-
westerly picked up this afternoon-
 Congratulations to Parker and the Paseana crew…nice fish!
Boat – Paseana, Angler, Parker Quinn, Captain – Sean Holden, Location – Roca Cornitenia, Puerto Vallarta, Date – Jan 17, 2:30pm. (CST), Tackle – Shimano 30w with 50lb mono line, Fish – Est 400lb Black Marlin
-------------------------- Mondays Reports ------------------
Feels almost like an Augusts mid's summer day, tropical clouds coming in up from the Mexico-- warm air temps seas calm with a slight southeast wind - glassy seas. Water hanging in there at 61 1/2 degrees up above Newport-
War Bait 3/8 and 1/2 oz War Bait jig heads with gold blades and skirts. We crushed the spotties on them in San Diego bay I was really impressed how well they fish.  Tight lines Bob

And they say a marlin was spotted yesterday off the 150 spot up tailing ( outside San Pedro/ Long Beach/ Oil Rigs area and this morning reports of a marlin seen up tailing high and dry by Long Point Catalina---- they hang around for another month and by then probably for the rest of the year-- ! Wonder it's that same one that was up off Deep Hole, Ventura's rock cod ground of last month?
Wind and weather from out of the south today--- and current for the past week has been generally uphill along the coastline-- warm storms -a- brewing from down south-- it still looks like continued warming trend for the east pacific ocean. a check on our So Calif water
With NOAA's coastwatch a geographical a spot can be identified and it's water temp recorded on a graph- a random check aprox a 100 miles off the coastline below the border revels from Dec 20 the water temps slowly dropped to a low around the 15 of January it's been climbing since. Stand By-
And West Coast water temps for the past three years--
-
-
Water temps setting at 50 to 85 degrees from January three year's ago 2013, then last year 14 and so far this year 2015,
------------------------------ Sat and Sundays Reports -------------
Gusty winds, strong force at times Santa Ana's, not much in the way of protected areas for fishing-- Maybe the lee of the coastal hills, Salt Creek and points south of Dana, funneling in strong above Newport-- Catalina in a High Wind warning watch - no reports of damage yet-
Wind must have blurred up the water a bit- visibility this morning about 8- 9 ft, made three casts no bites-
Windy for all day-- swung around from the east Northeast steady towards sunset at 15 kts. - Whale watchers spotted Pilot Whales off Laguna late in the day--- up with a bunch of the Red Crabs - spots of thousands of them-
tomorrow's a better day-
E-Mail from Bob and Sally K who just got back from Panama
 
Hi JD, --Sally and I just returned from 6 days of fishing at Tropic Star Lodge in Pinas Bay, Panama.  We had a great trip releasing 6 marlin (3 Blues and 3 Blacks, ranging from 250 - 550 lbs.) along with 6 Sails in the 80-90 pound range.  For the week, our group tallied 54 Marlin (almost equally divided between Blues and Blacks) and  over sixty Sails.  Not to mention countless Dorado (30 - 50 lbs.).
 
As of January 20th, all tags deployed in conjunction with the MABT still appear to be attached to theirrespective Striped Marlin.  Great news!!  -- We'll know around the end of March to see how far the 6 marlin tagged here will have traveled-

 
Best personal regards, Bob Kurz
IGFA Representative - Southern California HIBT Great Marlin Race Event Coordinator

---------- Friday's Reports -------------------
Amazing how well the water's have cleaned up, yesterday's sapphire water turned to straight gin clear this morning- I measured 13 ft of clear water off the dock out front in the high tide-- made two cast - no bites - the fish could see they were fakes-
Wind forecasted for Sat mainly in the SantaMonica Basic area to the West end of Catalina
Good flow of morning's incoming tide tomorrow for the SD bay bass fishing event-- waters are clear- good luck- JD
West wind picked up mid day and enforced itself from there on- turning north/ northeast
Shoals of mackerel up breezing 2-3 miles off the beach- below Dana to Salt Creek
We've been waiting for it --
~~~~~ the JD's Super Bowl Playoff Special~~~~~
- unfortunately the lures we wanted to offer are still on cargo ships waiting to be off loaded at the Long Beach ports-- sorry, but we're still going on with the deal anyway!! -- we'll just have to wait till the lures come it-- the anticapation adds to their use, the fish will be bigger then- !
Here's the Deal-- you bet on your team in the Super Bowl and you choose a Shimano Flat Fall Lure-- if your team wins-- you get the lure for free! can't get much better than that-- if your team loses-- you get to buy two of the lures! Either way you come out a winner-- !! Taking phone calls and e-mails up to the start of the Kickoff Super Bowl Sunday Call 1 800 660 5030  or jdsbiggame@aol.com
BUTTERFLY FLAT FALL JIGS Shimano Butterfly Flat-Fall Jigs are a totally new concept of Butterfly Jigging technique. Drop the jig down to the bottom, then crank it up 30 feet off the bottom and free spool. Or cast the jig and let it fall while free spooling, wait for the bite, then jerk and repeat. The center balanced jig falls with a wobbling action in a horizontal position, keeping the strike zone longer than the Butterfly jig.
| | | | | |
| --- | --- | --- | --- | --- |
| BFLFF100AV | 100g | MidColumn | BLACK/ANCHOVY | SINKING $12.95 |
| BFLFF100BS | 100g | Mid-Column | BLUE/SARDINE | SINKING $ 12.95 |
| BFLFF100CW | 100g | Mid-Column | CHART/WHITE | SINKING $ 12.94 |
| BFLFF100HQ | 100g | Mid-Column | PHANTOM/SQUID | SINKING $12.95 |
| BFLFF100PB | 100g | Mid-Column | PINK/BLUE | SINKING $12.95 |
| BFLFF100SE | 100g | Mid-Column | SAND EEL | SINKING $12.95 |
| BFLFF130AV | 130g | Mid-Column | BLACK/ANCHOVY | SINKING $14.95 |
| BFLFF130BS | 130g | Mid-Column | BLUE/SARDINE | SINKING $14.95 |
| BFLFF130CW | 130g | Mid-Column | CHART/WHITE | SINKING $14.95 |
| BFLFF130HQ | 130g | Mid-Column | PHANTOM/SQUID | SINKING $14.95 |
| BFLFF130PB | 130g | Mid-Column | PINK/BLUE | SINKING $14.95 |
| BFLFF130SE | 130g | Mid-Column | SAND EEL | SINKING $14.95 |
--------------- Thursday's Reports --------------
Whale watchers on the lookout for Grays around two miles to four miles out-
News comes out of Blue marlin's taken off Baja Cabo San Lucas-- up on the banks chasing dorado a 5.5 Zukers dorado colored scored on one of the fish-- Reports of two Blues-- a 600+ and a 700 + remarkable for this time of year--
Remarklably how fish the water cleans up after last week's army green in the harbor water conditions - it went to emerald green and this morings it's more like saphire green- still about 5 ft visabilkity but much cleaner and better looking - full of smelt
Although their common name contains "smelt", topsmelt are not true smelt—they are in the silversides family, Atherinidae, a family that includes jacksmelt (Atherinopsis californiensis) and grunion (Leuresthes tenuis). The family name, silversides, is very descriptive as these small elongate fish appear to be formed of burnished silver.   these fish generally mature in their second or third year and has a lifespan of six to nine years.
Windows of opportunity- offshore the Santa Ana's peter out and spectacular weather can be had-- the Tanner and Cortez Banks look promising for those who can venture out there for the next couple of days-- best of luck- might even pull a marlin plug going and coming-- who knows! but STRONGER OFFSHORE FLOW IS EXPECTED SATURDAY INTO SUNDAY.
AN AREA OF LARGE LONG PERIOD NW SWELL WILL BEGIN TO IMPACT NW WATERS THROUGH THE WEEKEND. SEAS WILL BUILD TO 12- 14 FT WITH HIGHEST SEAS EXPECTED W OF 135W. THE COLD FRONT ASSOCIATED WITH THESE SWELLS IS NOT EXPECTED TO REACH THE AREA UNTIL LATE SUN. HIGH PRES BUILDING OVER THE SOUTHWEST U.S. WILL COMBINE WITH A SURFACE TROUGH ACROSS NW MEXICO TO TIGHTEN THE PRESSURE GRADIENT IN THE NORTHERN GULF OF CALIFORNIA. WINDS ARE FRESH TO STRONG N OF 30N THIS MORNING. STRONGEST WINDS WILL SPREAD SOUTHWARD TO ENCOMPASS MOST OF THE GULF OF CALIFORNIA THROUGH FRI...WITH
FRESH NW WINDS EXPECTED TO PERSIST IN THE REGION THROUGH SAT
Made several casts in the returning afternoon tide , nice sunset- small bass nibbled at the plastic- one fish 7 inches, bait was 6 inches
------- Wed's Reports -------------
Light marine haze again--- wind fair from the west at 8- 10 knts- put's a slight wrinkle and chop to the water-- water visibility has remarkably cleaned up in two days- almost a clean emerald green to it-- bait fish , smelt, sardines and this mornings treat- Pelagic Red Crabs by the thousands came in with the incoming high tide, into the harbor of Newport and probably other harbors
Not typical to find these pelagic crabs this time of year-- more like summer months-- water temps remain in the mid 60's
Made two cast with a plastic ( fish) no bites- put on a Red Crab, scooped up off the beach- one cast, one nice sized Spotted Bay Bass, it's stomach bulging with stuffed
crabs--
Pleuroncodes planipes, sometimes called the pelagic red crab (or simply "red crab"), tuna crab or langostilla, is a species of squat lobster from the eastern Pacific Ocean. As the most abundant species of micronekton in the California Current
Not too many boaters out today-- fair+ number of Gray Whales showing off Laguna
------------- Tuesday's reports ------------
Overcast light foggy conditions- no wind, seas calm, water temps remains in the mid to low 60's good tidal flow with the New Moon this evening-- one cast- one small bass-
Not much going on the radio today-- a few whale watcht s and dock workers-- a call to Vick -- he was out up towards the 150 spot chasing the tails- guy next to him got one - so far only fair for the fleet
------------------ Monday's reports ----------------
- Light overcast skies, marine haze - seas good with a slight mixed swell- calm
FGair number of boats out-- the day off for many- some kids out of school fishing the bays tossing plasti
cs. strong moving tide today runs out at 2.8 knts- made one cast, no bite quit
Whale watches seeing 30 or more common dolphins and maybe a Gray Whale if they were lucky-- most of the migrating whales have figured out to stay to the outside of Catalina and Clemente islands as they head south. those Orcas were still around north of Dana, off Laguna Beach I think
and another E-Mail report for Chris Webb on TIME OUT with a bluefin he caught on Tanner Bank. First Flag for BYC.
----------------- The Weekends reports ---------
it's different today-- still warm and calm- but a bit of overcast sky to it- should be a good sunset this evening with the weak cloud cover- made three casts no bites water still offcolor with plankton and a algae bloom in it-
Lots of boats out again today-- fishing below Dana and up off the flats above and outside Huntington-
Fishing gossip- first liar doesn't stand a chance-
With the increased number of boats out today- both whale watching and those out chaising the tails- boating curiosity and that of Federal laws regarding approaching Whales and mammals needs to be addressed
Conditions stayed well for the days outings- strong tide exchange for the next couple of days--
Chris Webb's boat Time Out is coming in with two bluefin for first flag for BYC. Caught on Tanner Bank.
------------ Sats Reports ----------
Same as yesterday-- good weather- seas remain in the low 60's clam and fair. 2 casts, one bites
lots of small boats out today- skiffs and other's, not many whales a few in tight to the beach 40 ft or better-
The small rocks and art. reefs above the Newport Harbor- Huntington beach flats harbor some good sized sand bass- Bigger calicos will be up early in the morning hours chasing baits- by 8 am they've feed well and settle down for most of the day, Sand bass are greedy and feed for most of the day-
Good tidal current movements with the new moon approaching
Rumor of a Albacore out towards the Cortez Banks -- rumor unconfirmed as of yet- Althought a couple of private sportfishers were headed towards the Tanner today- spending the night in the lee of Clemente tonight ( above White Rock) then to the outer banks tomorrow - price of fuel and as long as the weather holds makes it achievable.
Couple of Orcas traveling offshore 14 Mile Bank area--
same as yesterday --nice day-
-------------------------- Friday's reports ------------
January weather --- not bad for So. Calif these days-- warm even hot and clear sunny skies, a little marine haze on the coastal horizon- wind calm , seas calm beautiful, Coastal waters starting to improve visibility but still that offcolor army green to it-- schools of bait fish in it, mainly deep on the bottom-. made 4 cast two bites one small sand bass-
Boats still fishing the Box Canyon- area south of Dana- north of Oceanside area, Yellowtails on the iron or sardines from the Dana Pt bait receivers--
What's inportant is these mild Santa Anas- are not driving central california's coastal waters offshore/ bring up upwelling of cooler water, bodes well for us, Springtime just around the corner- if we can weather through Feb. as well as we've done so far for Jan we should be in good shape for another banner sportfishing year-- time will tell- JD
San Clemente Island (SOBA) areas looks to be "hot" active for over the weekend- from 10 am till 10 pm each day-- backside is open-
Good luck this weekend if you get out-- JD
----------Took the day off Thursday-- JD -----
Mild Santa Ana's beginning to push out that haze along the coastline warming up things a bit-- that added sunshine and dousing of fresh water earlier this week may be why we've seen such a growth of plankton life/ algae in the shallow waters if the harbors and bays - offcolor army green this morning visibility a little better now at 3- 4 ft- 3 casts no bites- maybe a small nibble
Out to sea Catalina lays flat today- should be a good weekend to fish the back side tomorrow-
two gray whales ( west jetty newport) and 15-20 common dophins was the whale watching 1/2 report-
38 sandbass some blacksmith perch and sculpin(?) were in the daily boat count-
Taking the day off on Thursday-- JD
Strange for this time of year to see a low pressure system develop below the tip of Baja
A 1010 MB LOW PRESSURE CENTER IS NEAR 09N113W. NUMEROUS STRONG CONVECTIVE PRECIPITATION COVERS THE AREA FROM 07N TO 12N BETWEEN 110W AND 114W. PRECIPITABLE WATER IMAGERY SHOWS LOW-TO MID-LEVEL MOISTURE POOLED ALONG THE ITCZ IN THIS AREA. THIS SHORTWAVE TROUGH WILL MOVE RAPIDLY NORTHEASTWARD AWAY FROM THE
AREA OF POOLED MOISTURE AS A NEW BATCH OF SHORTWAVE ENERGY MOVES INTO THE BACKSIDE OF THE BROAD TROUGH. THIS NEW ENERGY WILL BECOME THE FOCUS FOR PRECIPITATION BY THURSDAY AS IT MOVES INTO THE LEADING EDGE OF THE BROAD UPPER TROUGH.
<----------Forecast movement
Also Private sportfishers in Central Americas are watchful this time of year- GULF OF TEHUANTEPEC GALE WARNING
------------------------------ Tuesday's Reports ----------------
Light west/ northwest wind began to push out the mornings haze along the coastline- seas calm and flat-- water temps reduced to 61-62 degrees, coastal bay waters at least here in Newport offcolor army green- doesn't look all that good for fishing- made 5 cast no bites--
The Seals won today- and some wind up on the flats chased those away this afternoon-- A 1,000 sealion was on the few boats that were up there, as the boats went away the seal progressivly became a nuisance to those remaining.
weather below the harbor much kinder-
Feels a bit on the damp cool side this afternoon evening- slow fishing-
---------- Mondays Reports - --------------
Overcast sky mirrored against a slight east south east wind at 2- 5-6 kts- seas calm , Bay waters have a offcolor dirty green color to it- visibility 2- 3 feet at best- fishing slowed, made four cast no bites- no tide movement either- quit
A fleet of boats up above the oil rigs chasing seals- and yellowtails if their quick enought to get the bait before the seals do--
While it's been fair to good Yellowtail fishing " Winter month style/ jig or bait on the bot
tom"---------there's still a chance at the White Sea Bass-
E- Mail photo this afternoon !
Nice fish taken on 30lb line
48 lbs on 30 Vick S.
-
--------- The Weekends Reports ---------------
Sea temps remain 63 degrees - it's like that from here- northwest five hundred miles then across the entire pacific, it's that warm for January
Light Rain and some fog, winds calms, some seas from the s/e,s,s/w
These are the hot SWBA baits,----Viejos baits by MC,
Most of the SWBA guys are throwing- 5" and 7" Viejos swim baits on weedless War Bait heads 3/4 and 1 oz in matching colors has been working. Browns, greens, light brown orange colors best

SWBA's Weigh-in yesterday was remarkable to see some of the five fish bag weights of live Calicos that were caught- 26.28 lbs for five Calcos! that over 5 lbs for a average fish- impressive to say the least and there were several more bag limit weights above 20 lbs! There out agsin today fishing Catalina, and Clemente islands, live coverage- at around 2:30 today-
SWBA's Offshore Challenge has a Live Feed / Camera for their weigh in this afternoon and Sunday. Tune in after 2:30 pm for live weigh-in for the event . Growing participation in the SWBA bass fishing has both sponsors and some of the young blood of the sport becoming involved.
E-Mail report -- SWBA Up Date Hi JD, wet and rainy conditions here and at SCI. Top boat had 26.88 lbs for five fish, 2nd and 3rd place boats within a couple lbs. The sponsors fished backside west end of Catalina for a few small yellows, bonita, and calicos at west cove. Seals were brutal! Weigh-in at 3pm.  Bob
1:00pm update SWBA--
Jimmy and Tracy weigh-in first with 25.68 lbs plus at Catalina. Tracy has big fish so far with a 6.83 lbs! Revo Inshores with 40 lb Pro SpecBraid and weedless swim baits. Bob--


3:00 Final Report ----Team Killer Whale comes in 2 Day with a big fish at 7.9lb Calico and overall winners Josh and Ryan of team
Bassaholics Won and came in with a 2 day total of 50.54 lbs. Great work!
~Team Bassaholics ~
Made several cast off the dock mid day just to break the day- went fishin' two small bites - missed em' quit
Jeff C's Yellowtail on the egg, Nice pants! -
Despite to rain showers earlier there were 1/2 dozen boats that came out mid morning and fished the shelf off Long Beach/ San Pedro- Yellows were again sought after and caught.
---------------------- Sat Reports ----------------
Tides not quite topped out high yet-- good meter marks here--- nice big bass ----- Hey Dan-- they're hererrr --- sluggo -- slow grind with the iron, Scrambled Egg color-- 25 lb yellowtail-- 30 lb dacron line-- 9:54am Outside Long Beach 150- 200 ft of water-
Light rain shower morning hours with breaking blue sky behind it- wing - calm seas flat- fishing great- catching fair-
SWBA's Offshore Challenge has a Live Feed / Camera for their weigh in this afternoon and Sunday. Tune in after 2:30 pm for live weigh-in for the event . Growing participation in the SWBA bass fishing has both sponsors and some of the young blood of the sport becoming involved.
Great Whale watching for the weekend if you've got friends of relatives who want to see such things- Gray and Fin Backs are off Laguna to Dana or below- Grays closer to the beach- fin's out 2- miles- otherwise go fishin-
Trolled for about two hours for the marlin from around Seal Cove back side and back around---conditions looked great-- got some tunas out on the Tanner and Yellowtail in the Cove at Clements this morning---it was good, how was the weather?- never got a drop of water on the boat-- broke off a bunch on the lighter tackle --a little bit east of the high spot---First Tunas for the DAC, Hooked
Tanner Tuna from the Hooked--
Making bait mackerels tough this morning-- and those you had for bait were quickly chewed upon by the seals- fishing only fait for the tails and seabass today- unless you were the guy who caught one!
------------------ Fridays Reports -------------
Light layers of high cloud cover- some darker than others- - wind light 2-3 knts S/E seas flat and calm- time to go boating-
Barometer readings for this Low pressure system moving through So Calif might take a minor bite out of the bite for the SWBA's tournament this weekend - today its 30.3 and dropping slowly.
This weekend the SWBA has the Offshore Challenge, Calico Bass fishing at it's finest-- sometimes- weather the biggest issue- and for this year it looks ok with the first day Sat with a SE winds 5 to 10 kt. Wind waves 2 ft or less. W swell 5 to 7 ft. . Many of these boats fish the backside of Catalina, run down to Clemente Island or Santa Barbara Island leaving out of Twin Harbors/ Catalina each day--
Salt Water Calico Bass Fishing- with the 2015 California Offshore Challange Jan 10th, a kick off tournament then the serries begins
January 10th & 11th, 2015 
Two Harbors, Catalina Island 



5 Fish Bag: Calico Bass Only, 14.25" minimum length. 
5:00am-3:00pm: ( both days) Boundaries: Santa Catalina, San Clamente, Santa Barbara, and San Nicholas Islands only. All MLPA, Navy closures will be inforced!
------------------------ Thursday's Reports -------------
Morning brings a light Southeast wind and 5 -7knts more or less- seas great- should have gone fishin'-
made 3 casts -no bites- tide hadn't started to move- - later in the day near the bottom of the tide one cast, one small sand bass
Quiet day on the water only a few boats out- some whale watchers or barge workers- couple of sunseekers and sailboat or two-
ENSO Alert System Status: El Niño Watch During December 2014, positive sea surface temperature (SST) anomalies decreased across the central and east-central equatorial Pacific.The positive subsurface heat content anomalies (averaged between 180o-100oW) also decreased during December (Fig. 3) in response to an upwelling equatorial oceanic Kelvin wave (Fig. 4). Although the surface and sub-surface temperature anomalies were consistent with El Niño, the overall atmospheric circulation continued to show only limited coupling with the anomalously warm water. The equatorial low-level winds were largely near average during the month, while upper-level easterly anomalies continued in the central and eastern tropical Pacific. The
Southern Oscillation Index (SOI) remained slightly negative, but the Equatorial SOI remained near zero. Also, rainfall remained below-average near the Date Line and was above-average over Indonesia (Fig. 5). Overall, the combined atmospheric and oceanic state remains ENSO-neutral.
Similar to last month, most models predict the SST anomalies to remain at weak El Niño levels (3-month values of the Niño-3.4 index between 0.5oC and 0.9oC) during December-February 2014-15, and lasting into the Northern Hemisphere spring 2015 (Fig. 6). If El Niño were to emerge, the forecaster consensus favors a weak event that ends in early Northern Hemisphere spring. In summary, there is an approximately 50-60% chance of El Niño conditions during the next two months, with ENSO-neutral favored thereafter (click CPC/IRI consensus forecast for the chance of each outcome).
We'll take that over a La Niina any day- JD
----------------- Wed's Reports --------------------
Almost like a mid's summer day-- a few high lingering clouds, warm in the sun, calm seas- glossy smooth - your crazy for not being out there this morning-
mid-morning high tide slack 9:45 am- bet there's a marlin feeding out there right now- chasing down sardines on the surface in the lee of Clemente-
In tight, were small Gray Whales working their way south off Laguna.
Made 2 cast - two bites - lost one.
Scrambled egg pattern was among the favorites for the Yellowtail iron colors--
Killer Whales- as they approach the coastline of Newport--- today 3:00pm
Ryan L sent these this afternoon---
A call from his dad Drew who had circled San Clemente's Island today looking fro that elusive First Marlin of the Year-- flat calm weather- the reflections off the ocean mirrored the sky for most of their trip -- a maybe on a crushed ballyhoo as the got to the outer ring of the Mackerel Bank- a quick zip and a crushed bait-- warmest water and still good looking area was the backside of the island Seal Cove . 64.2 degrees and fishy.
--------------------- Tuesdays Reports ------------
Full moon kicked off a White Sea Bass bite and the yellows continued to be sought after along the flats that extends off the beach below Dana- San Clements and toward Oceanside.
Couple more reports-- of Striped Marlin seen between Catalina and clemente island the past few days-- a feeder seen near the Mackerael Bank-- go for it!-
Prtice of fuel today $2.50 a gal (Diesel) out front today---
Good morning JD !1/03/2015 Hali 26 lbsWas on the Pura Vida out of Shelter Island this past Saturday with skipper Jean Dupré.  We went out to target Halibut and on
our second spot we nailed this beauty at 26 lbs.  We were drifting just north of Point Loma off a step drop outside the kelp line with a hali rig and live sardine.  Bryce Dupré was the angler pictured left. Joshua
Tide draing out mid day-- had to make a cast -- four cast, three bites one bass- .
Not bad weather for the first week of January 2015- water temps for Tanner Bank at 64 degrees and Clemente at 63.7
Seals continue to harass those anglers lucky eought to have hung a yellow or seabass out by the 150 spot
-------------- Monday took off and went fishin'- caught a yellowtail with Jimmy and Tracy Decker-- nice day on the water-
There must be flights of Myliobatis Californicus gliding across the bottom a few feet above of the mud/ sand bottom flats below Dana/ San Clemente beach- looking for squid-- I'd snagged one Decker also hooked up at the same time, his tore loose- mine get released at the surface. Scallops if you'd want them.
The Weekend report
Tanner and Clemente weather buoys boat remain at 62.4 degees
Email this morning from Decker-- out with a charter-- Her first Yellowtail-- nice catch!
Charter this morning out of Dana---- Desiree's first yellow
good way to stasrt off the New Year with- congrats- JD
We've got one on iron and two on bait so far-- wired on one now- gotten into some sort of structure down there -- twice he's gotten into to it and we've got him out of it so far-- feels like a real nice fish-- 11:54am --- broke em off and a second one too--- and got wired again w/ iron- Not sure where they were fishing-- I'd guess the 150 spot above the outer oil rigs- or that area-
a northwester blew in the afternoon- slowed things down-- good bite durring the eariler draining half of the tide, seals still a problem
-------------------- Sat's Reports --------------
Clear and cold- water visibility getting close to 20 - 25- 30 ft-- light wind from the west- puts a chill in the air- seas fair.-- made two cast- first one not a nibble- nothing- water had dropped to 56 degrees here in the harbor-- second cast- one nice spotted bay bass at the tail end of the reterive
Fishing tougher today-- not much current movements on the art reefs and seals still a problem once anything was hooked-
Alan B. dropped by the shop this morning he was aboard the Provider and provided me with a on the spot report of their marlin hook up yesterday--- After leaving the anchorage of Pyramid that morning they turned the corner of China Pt. Clemente Island and began working up the back side of the island-- the geology of the island is such of sharp drop-off and canyon ledges it's a likely spot. Alan- a proponent of the ballyhoos baits- had rigged up a couple and set them up behind the teasers they were running- matched with a pair of trolling lures on either side they had what he felt was a pretty good looking spread of baits out behind the boat-- water purple blue, a little cool at 63 degrees but calm with spots of bait up and showing- looked good-- real good- weaving in and out up the backside they came to a shelf which comes out off the island, taking the tack over it and towards the outside of that shelf , the rigger goes off- a strike , Alan down the hatchway and on the rod- the ballyhoo bait still skipping along - sure sounded like a strike," looked like there was a bill on the bait "- the line having not sprung free of the clip, Alan points the rod at the clip and free spools out more line- Up pops the marlins in it's wake as it drifts back. it takes the bait and line's again dumped out of the reel through the clip, a slight thumb tighten on the spool to release get the clip to break free and the baits pops out , Free spool more line back and he lets it sink out -- a quick rewind and up comes the bait to the surface skipping along on it's side- and the marlin behind it - makes a lunge at it and again Alan lets the fish get the bait - -- A solid strike this time and the fish is on- line breaks free of the clip and their on--- a Striped Marlin Jan the 2 1015 off the backside of Clements in perfect weather-- but alas the tale ends rather too quickly and too much line had gotten out and they parted company
JD's Offers $100 to the First Marlin of the 2015 Season in US waters --- go get em'-- they're still here!!!-
------------------------------------ Friday's Reports ---------------------
Clear skies with the ocean flat, layers of mixed texture, a white haze obscures the islands.
Not sure if it's the First for the Club Yet - Vicks S out yesterday aboard his boat Sleeper, fished the 150 spot outside and above the outer rigs offshore Huntington, no yellows, seabass but lots of confused seas and unproductive day of it-- back at it this morning with friend Aaron after trying the Art Reef outside upper Newport earlier-- those aggressive Bull seal lions make a mess of things so back up to the offshore dropoff above the rigs, metering a meatball and spots of bigger fish next to it- dropped drop iron and was bit-- a est 5lb Yellowtail--10:30am Jan 2 1015- Water temps 61 degrees
E-Mail just in------- Hey JD-- Jack Rainwater got a bluefin at 6:42 yesterday and Jason Blower
a yellowtail at 8:15. Both fish on the Tanner Bank in Salas 6x jr blue/white jigs. Weighing them at club tomorrow. Good weather and fishing. Prospector out, Bob
Congrats to the Prospecter and crew- JD
Rodney on the Provider calls in-- They'd hooked a marlin off the backside of the San Clemente Island but lost it-- they also got some tuna out on the bank, Tanner I think-- Congrats to them too- JD
Three of them spent their time out there, really nice weather-- New Years Day on on the bank-got a taste for the tunas and tails even 10-12 lb bonitos- then back to Pyramid for the evening-- joined together for dinner aboard the Provider watching football games, doesn't get much better, tuna tales and football games add in great weather and the beauty of cove. Taking a East tack this morning back up the lee of the Island looking for marlin water 62/63 degrees and some bait--- Provider ran around and went up the backside of the island, dragging ballyhoos- gets a marlin bite a little after 8 am but it gets away! -- not bad way to start the year--- .JD
Vick calls in with another 1st for the Year a White Sea Bass caught on 30 lb test line-- Congrats to Vick and crew --outside the Horseshoe Bank
I haven't heard from the other clubs just yet on yesterdays fishing results--
Best of Luck to all for 2015 - for Bigger and more fish!
JD
Coastal waters dropped off to 61- 62 degrees, water visibility almost 10- 12 ft off color green - inside the bays and harbors even cooler with thin water taking the nights burtal cold temps down to 54 degrees!
- There's a spots of 2-4 lb Bonitos breaking water inside the rigs--
Dana Anglings Club First Yellow- Hi JD,  saw your comment on wondering if any other clubs got fish.  Chris Bailey got DAC's First YT Flag @ 8:30am off mission beach fishing with Geoff Heldoorn and Pat Holmes on Kinpin....Dave (Teaser)
Hi JD, Got 3 nice Yellowtail Jan 1st off San Diego on Chris Bailey's boat, Kingpin. He has the pending 1st Flag for the club at this point-Happy New Year!
and the Last Marlin of the Season ( 2014) was taken by Patty Blower , she also caught the First Fish by a female this year and she was last years Last Fish of the Season angler too-- quite the gal I'd say-- congrats- JD
JD's Offers a $100 Gift Certificate reward to the angler with the Last Marlin of the Season Released here in US waters -- who knows that might be Dec 31st! and Berkley add to the growing numbers who want to add to the prizes- from Berkley. a FREE 2,500 yard spool of the New Berkley Pro Spec Braid (your choice of lb test).  Retail value $350.00. 
-------------- Dec 31--------- Wed,------- New Year's Day the 1st. - took off- never made it out of the harbor- sloppy for my little boat-- spent the day in the harbor catching small halibut,s bass, lizards fish and a wrasse - -------
The End of the Year and another one starts tomorrow- fresh and clean- from now on the days get warmer and longer to the middle of summer and an if I guess it right a warm El Nino season or at least were starting on a warm water cycle- - More fish were hatched this year than the two previous seasons ago- give it another year or two of warm water and nutrients and we'll have banners years- Made two casts, two bites, missed them but snagged a grass shrimp on the hook! My catch of the year a shrimp!
Clearing crisp wind from the north, seas took a beating last night in the wind and storm-but keeps on ticking- Tanner buoy at 62.2 , San Clemente at 62.2 , Dana Pt at 62.2 and San Pedro at 62.4
Sad to hear about loss of life from Catalina where they had a tough time of it last night- boats breaking loose or dragging moorings lines in the wind and storm, boats on the beach a sailboat sunk and injury and death to a Harbor Dept officer and a boater-. We wish them well and the harbor safe again.
Headed out to sea- boats looking for that First Fish of the Year- topping off with mackerels or sardines from Dana 's receivers or of jugging the tanks with live squid from Catalina and heading towards the tunas grounds for tomorrows early season catches--- coastal fishing it should be cold with a light NE 10 kt breeze early morning and warming as the days heats up- best of luck- JD
E-Mail Fish Report
Hi JD, here's a 60lb. White Sea bass that was caught off Malibu on Sunday night while fishing on the "Joy Sea".

Thanks, Gary Johnson and Bob Nast

A three day composit of the local waterr t
emps 60- 65 degrees
-------------------------- Tuesday's Reports ----------------
Ocean looks gray from the hill, wind from the west northwest- refreshing cool, shafts of sunlight, shadow and light rain streaming down from the east . made three casts- two little nibbles- quit
When asked about if Sam Clemente Island will be open over the next week and into the following week for the SWBA Offshore Challenge - their sited difficult to get into to these days-- I guess more security checks? your 'd think they would make it easier for people to view it-- Stating on the 1st through the 6 it's open, on the 7th, 8th the west end has restrictions, the 9th has the SHOBA area restricted from 12 noon till 3 pm and the 10th Saturday the West end to White Rock (leeward side) closed off all day and the 11th SHOBA is restricted area from 10 am to 10 pm
Not many on the water today- weather blew up and cold temps kept the crowds down-- swell and wind on the 150 made it difficult to fish it comfortably -- wind backing off for the afternoon hours but still uncomfortable . Party boats did well on the sand bass- add in some bottom stuff perch, sheep's and they had a good day of it-
Should be a good sunset-
---------------------- Monday's Reports -------------
Another nice day-- that makes like 360 days of of the year pleasant here in So Calif.-- broken cloud cover- light wind from the south, seas calm Water temps chilled on the surface, visibility 8-10 ft or better- Tides fair and building as the moon fills. Made two casts- two bites one small spotted Bay Bass-
Whale watchers having a eye in sky- spotter plane seeing four Fin Whales off San Onfee more whales seen up the line off Abalone Point- 2 3 miles--
E-Mail report----Stefan, who is a potential new Tuna Club member fished horseshoe kelp yesterday on his boat and ended up with these.
The sea bass measured 53 inches. Thought you all might like to hear a story like this! The guy in the middle is a marine who landed his first WSB!
Couldn't end the year better than this- Congrat's to them - JD
Water temps last Saturday the 27th on the Tanner Buoy dropped from 63 down to 62.8 then 63.1 on Monday and Tuesday it's 62.8 --San Clemente's buoy went from 64.2 down to 63.9 then 64.2 Monday and Tuesday it's 63.1
60 perch, 17 goatheads, 11 sand bass, 1 lingcod and 47 rockfish- daily half day catch locally
~~~~~~~~~
FYI- Island Marine Fuels here in Newport and all the other fuel docks have a upcoming increase in price in the New Year
Three days left in 2014. With this morning's price drop, diesel and gasoline are at 6 year lows at Island Marine Fuel. What you will not hear in the media is the CARB Fee (tax) that is coming on January 1, 2015. 
This tax will be anywhere from .09 cents to .19 cents per gallon. It will vary daily.
So for three more days, price on Premium Valvtect Diesel Fuel is $2.56/gallon. 200 gal minuim In 4 days, that could be $2.75 or more!
Premium Valvtect Gasoline today is $2.81/gallon. On the 1st you're looking at $3.00/gallon or more! 
Just a friendly "heads-up" from your friendly Newport Harbor Valvtect Marine Fuel Dock! Call for fueling reservations for 1,000 or more
Happy New Year
ISLAND MARINE FUEL FEATURING PREMIUM "VALVTECT MARINE FUELS" www.islandmarinefuel.com
------------ The Weekends Reports ------------
Beautiful sunrise this morning, should be a good sunset too-
Light cloud cover , Seas flat and nice- broken lanes of slicks on the water- Catalina stands out well except for the dirty brown haze blown out to sea from Los Angeles
A few boats headed out of the harbor here this morning-- family and guys getting together
Last week a Christmas gift of baby White Sea Bass was received in the Newport Harbor Grow-Out- pens, The pens have had a very good record of being able to feed and raise these 2-3 inch small fry to a healthy 10 inch length and will be freed into the wild this next Spring-
Gray Whales making there appearance these days- as many as 16 were seen in one day by a WW down off San Onfre- some of them tight to the kelp line.
``````````
And from the AM radio fish talk show this morning- reports of Bluefin still out at the Cortez Bank --
Nice Sunset---
--------Go Chargers--- - there no better than the Angels-
------------------- Sat's Reports -------------
Brisk Northeasterly blowing- clear as a bell from the bluffs you can see Catalina and San Clemente islands- seas look dark blue, several boat moving-- best boating area would in the lee of the coastal mountains- tight to the beach-- Offshore much of this blow dissipates leaving calmer seas ,
Whale watchers were able to spot a Gray Whale heading south off Laguna early in the day before the wind picked up in the afternoon-- good place to visit with e relatives for a mornings boat ride.
A graph of the water temps of the Tanner for the past month shows it's been stable except for a quick drop then back to a consistent 63- degrees- we'll have to see how it fairs for the next few months- the more of these Northeast Santa Ana's that blow offshore brings forth upwelled cooler water , driven offshore and then carried southwards in Spring they plays a major factor on our fishing conditions, Time will tell we'll have to see in the next three months-
Weather forecasted for the coming New Years Day- looks like we'll have a blow from the northwest on Wed and wed evening backing off New Years Day- and better for the next weekend
Inner Waters

New Years Day

Wind NE 10 kt. Gusts to 15 kt in the morning. Wind waves 3 ft in the morning...becoming 2 ft or less. Swell W 2 ft. Slight chance of shower
Outer Waters 60- 150 offshore WED  N WINDS 10 TO 20 KT. SEAS 6 TO 10 FT.  WED NIGHT  N TO NW WINDS 5 TO 15 KT. SEAS 4 TO 8 FT.  THU  VARIABLE WINDS LESS THAN 10 KT. SEAS 3 TO 6 FT.  THU NIGHT  VARIABLE WINDS LESS THAN 5 KT. SEAS 3 TO 5 FT.
~~~~~~~~~ New Years Resolutions ~~~~~~~~~~~~
Still after one of the those beautiful golden orange Opah's and Swordfish or Marlin are a always goal, but opahs are caught regularly seems like springtime to mid summer a better for them - earlier this month it' was posted on BD that of a Louvar caught
- now that's a New years challenge to target one of them-- or the ever elusive Oar Fish, now that would be a lifetime goal-
Louvar
Closest relative is the Surgeon Fish although it is the only species in the family Luvaridae.

Taken last week in 64 degree water near the 209 ( Dec 10th) . Approx. depth 100 ft.Very interesting fish. Digestive track is so long in order to digest jelly fish that it's A-hole is right behind it's ventral or pelvic fins and not back by it's anal fin. The guts run all the way back where a normal fishes A-hole is but then double back forward to just behind its ventral fins. And it's A-hole has a bony flap to close it off. Kind of like an exhaust flap on a semi truck. Beautiful fish
~~~~~~~~
~
For the end of the year
I did some research on the number of fish caught here in California, Dock totals recorded by the landings and an estimate of those numbers of fish caught by the recreational anglers-- yes I'm off on some of the estimates for the private boat catches- if anything shy of count on a few fish and maybe more on others but it gives one a perspective of what harvest is caught- others fish get away or are released so you get an idea of how many fish are out there- or were--
-
------------What was caught in 2014 -------
2014 Fish Counts
Value from Recorded catch
Value set at 50 % of Commercial catch
Fish Count
Commercial Sportboats
Recreational  Private
Totals
Bluefin
                                           4,814.00
                            2,407.00
                    7,221.00
Yellowfin
                                         71,608.00
                         35,804.00
               107,412.00
Yellowtail
                                         43,165.00
                         21,582.50
                  64,747.50
Dorado
                                           8,500.00
                            4,250.00
                  12,750.00
Wahoo
                                                 11.00
                                    5.50
                          16.50
Albacore
                                                 59.00
                                  29.50
                          88.50
White Sea Bass
                                           3,793.00
                            1,896.50
                    5,689.50
------------- Friday's Reports------------------
Not bad weather for the end of the year-- water temps holding- surface temp at the Tanner Buoy 63 degrees San Clements Basic Buoy at 64.2 degrees
Light and gusty winds North East-- 12- 20 kts' Clear and Brisk - tides not bad-- made three casts, three bites, lost the plastic bait-- Water visibility 10 ft light green tint to it--
Pesky Cormorants and seals being the bane of this morning's fishing the coastline today--- you had to use heaver sinkers to get the baits down quickly before they got to them-- a few nice sized Sand Bass around when you could get down to the bottom.
Making bait off the newport jetties-- -- couple of bull sealions were around causing problems -- Dana Point had cured sardines-
~~~~~~~~~~~
------------Closed Christmas Day -----
Calm warm- light of no wind from the south- seas flat with a ground swell from the west-- Merry Christmas
Tide full this morning-- strong draining out flow-- made two casts, first fish took the plastic, second cast fish fell off- quit- merry christmas to the fish too-
Here's what I've got for water temps off So Calf waters for this past three days- from 63 to 66.5 degrees - they say a party boat heading towards Catalina this past week saw a Jumper , long point - the 289 doesn't look that bad for the end of December
Let this outside weather blow by Christmas Day and early Friday-- looks like 15 knts or less through the weekend then starts to blow again late Tuesday into Wed then backs off from 20 to 15- for Thursday, New Years Day Inner waters looks fair + with seas 2-3 ft or less and under 12- 15kts- south for the 1st.
~~~~~~~~ Merry Christmas---- JD's Tackle ~~~~~~~~~
------------------------- Tuesday's Reports ----------------
That creepy fog settled in last night- still around mid morning on the beach-- vis 1/4- 1/2 bright hazy with the sun on it- seas calm- Made two casts yesterday one bite one nice sized halibut- two casts this morning no bites-
fog burning away -should be a beautiful day on the coastline
Water temps still holding Tanner weather buoy shows 64.4 degrees a San Clemente weather buoy shows 65.1
Taking a run to Catalina Island--Decker was fishing the back side from the West End down the backside-- super Calico Bass fishing-- the three of them must have released 50- 60 bass up to 5- 6 lbs and a couple of smaller yellowtails-- not bad for Dec-- water temps 63- 64 a shore 2 mile stretch of fog earlier mid channel, then sweaty hot the rest of the day-- beautiful back there -
Fished with Justin Renolds from the East Coast fishing fame
Earthquakes??
------------------- Mondays Reports ---------
Beautiful weather- for the Christmas Holidays-- Hazy skies with blue above, Tide full early running out strong-- seas calm w/ west swell at 13 sec. seas temps 63 to 65 degrees, Spots of fog developing throughout the day--
Offshore seas and weather developing Wed and Thursday -
The Migration of Gray Whales has starting to trickle in-- found closer to the shoreline, sometime right in the kelp beds-- - they have trouble with some of the commercial gear that's set .
three partyboats and 20- 25 private boats scattered around the Box Canyon area 150- 200 ft depth- small mackerel was the ticket today- seals a problem - boat running too fast in the foggy conditions
Received this E-mail yesterday-- good fishing" Hi JD, Got in to a few yellows yesterday on the yoyo. Went 5 for 10, all good grade fish.
Danny Uribe
A Positive El Nino Prediction

Synopsis... The sea surface temperature anomaly pattern supports troughing out at 135-138W to the west of central and southern California. Support continues to develop for a southern branch of the westerlies into southern California and Arizona, so the wet pattern continues to elongate west from Texas to southeast Arizona. After about January 7, we expect a zone of above normal rainfall to develop along 32-36N from the Pacific into southcentral and southern California with near normal rainfall in northern California. El Niño is exerting more support to enhance the southern branch of the westerlies.

Currently we are entering the dry portion of the MJO cycle. On about January 3 to 5, we should start the slide into the wet portion of the cycle. At that time we should see th3e beginning of the series of troughs that push into southern California and bring another period of rains, possibly heavy ones, for about a week. Conditions will continue mild, for the most part, thanks to the warm sea surface temperatures near the coast of California.

In the Near-Term - Southern California - Dec. 18 to Jan. 1... Small rains or showers may occur on the 20th and 21st, with a possible shower in the foothill areas on the 24th. Moderate to strong Santa Anas are possible on the 22nd-23rd, the 25th-26th, the 28th to the 30th, and offshore breezes on the 31st and 1st of January. Watch for freezes and wetbulb freezes prior to start of Santa Ana winds and for a day or two after the Santa Anas end due to residual dry air aloft.

Summary - January 2 to 16, 2015... Warmer than normal sea surface temperatures near the coast and out to the west about 500 miles will continue to keep California warmer than normal through December. El Niño will assist in giving the storm track enough energy to push eastward and bring more consistent rains into central and southern California as a whole. Our Fox Outlook Map shows a southern branch of the westerlies trying to develop into central and southern California during this period. Sometime during the second or third week of January, we expect to see the mid-season dry spell that normally occurs in January. It could persist as long as 14 days. Watch for freezes to occur during the middle of January. Despite the warm days -- into the 70's -- nights will tend to get into the 30's, or perhaps 27-30 degrees in the colder locations, with low wetbulb temperatures.

rainy period should develop from January 5 to 12, followed by Santa Anas. Freezes will tend to associate with the non-windy periods just before and just following Santa Anas. In general, the warm sea surface and generally warmer airmasses that will drift eastward from the Pacific will tend to minimize freeze events.

Seasonal Outlook/El Niño Update - January 17 to March 31... The latest guidance from the CFS2 model and Scripps ECPC indicate that El Niño will continue to slowly develop and reach a maximum in February. CFS2 guidance continues to support above normal rainfall in February and near normal rainfall in January and March. If March has above normal rainfall in the first week to 10 days, then below normal rainfall later in the month is suggested by CFS2 guidance. For the most part, we expect mild conditions with below normal frost and freeze occurrences during this period. ...Alan Fox, Fox Weather LLC...

Get a free pair of Fraser Optics Bylite Gyro Binouiclers!!! with purchace of the --
Hawk
1985/2005 29' Crystaliner w/ Cummins Diesels. -Sale price is Now 70,000 My contact # is 858-354-9904
-------------- The Weekends Reports --------------
Shortest day of the Year-- Winter Solstice at 3:03pm today - Springtime is only a short two months away! Give the status of the overall warm water event from last summer, into and continuing into Fall and now winter we should see a warming trend again as spring approaches early.
Tides ebbing out at at a 2.7 knts low tide today at 3:05 -
Yellowtail will the saving grace this winter , the homeguards have had reserves join in their ranks. First Fish of the Year awards for the local angling clubs are on the line later next week - Tails probably from that shelf that's off the kelp and mud flats below San Onofre Or the offshore islands Catalina or Clemente, White Sea Bass will be another story , more apt to be following the biomass of Squid with over 65 % of them this past year being taken above Point Conception they're wont be as many of them around- find the squid and your chances are better otherwise -a mackeral near a kelp bed. Offshore there's a dozen boats planed to target the tunas and tails off the outer banks Clements Islands will be open for anchorage over the holidays.
New Year's morning finds a filling tide from 12:0'clock midnight to a high at sunrise at 6:10 dawn at 5:59 - tide drops out till 1:22pm afternoon filling for the new year's day.
Don't know how long it will last but the price of diesel fuel here at Island Marine Fuels and I suppose most fuel docks have lowered their prices to below $3.00 a gallon. Here it's $2.73 a gal. for over 200 premium gallons-, lowest it's been in seven years--- over 1,000 gallons call for appointment and special prices! Island Marine Fuel is a CertifiedValvTectMarine Fuel Location
- it's worth the fill up-!
Please call 949-673-1103 if you need special fueling hours
--------------------- Sat's Reports ------------------
Sat' broke with cloudy skies though not cold, stayed like that most of the day - not much wind -seas were calm, long period swell from the west. Calicos were biting
stronger tide exchange this weekend
Flat seas with the darkened overhead sky and glassy seas made for great visibility.
Not many fish reports-- a few whale watching comments and those out with family or friends for a boat ride--
------------------ Fridays Reports -------------------
Blue skies and warming air in the sunshine- peaceful seas with a light westerly putting sparkle on the water- westerly developing later in the afternoon and skies clouded over- cooler-
Whale watchers- gray whales around- traveling in 30 fathoms heading south- not much else no dolphins seen yet-- Killer Whales reported to be in the area-- a group of white sided dolphins seen off Laguna- -
A look forward to the San Clemente Island schedule- Pyramid is open from now to at least the 4th of January 2015, only restrictions is now till the 22nt West Cove/ backside northwest end of the island has some restrictions-- Forecasters show some rain coming in next weekend but clearing up after that-- 1st fish of the year- Yellowtail, White Sea Bass, Tuna, Marlin? who know-- best of luck- JD
Seeking your Input: Guidelines for Safely Deterring Marine Mammals 
NOAA Fisheries will be developing guidelines for safely deterring marine mammals and we'd like your input! The Marine Mammal Protection Act (MMPA) section 101(a)(4)(A) allows for private citizens to employ measures to deter marine mammals from damaging fishing gear and catch, damaging personal or public property, or endangering personal safety, as long as these measures do not result in death or serious injury of marine mammals. 
The MMPA also directs the Secretary of Commerce, through NOAA Fisheries, to develop national guidelines on safely deterring marine mammals under NOAA's jurisdiction (e.g., whales, dolphins, seals, and sea lions). We'd like your input on the deterrents we should evaluate and consider for approval. The comment period is open for 30 days, until January 15, 2015.  Please submit comments here National Policy Advisor for Recreational FisheriesNOAA Fisheries
- I guess we all have our groups of guysand friends we hang around with-- - he was one of the boys, Adios - good fishin' JD
Nicknamed Kegger- Craig Oliver passed away last week , A good hard working generous man- sorry to see him leaving us-- he will be missed- John
------------------------------Thursdays Reports -------------
Like the forecast said isolated showers- clearing out today, seas fair with some light chop and swell on it- Water still holding from 65 degrees off San Diego to the San Pedro Channel at 64.2 degrees , commercial boats were out looking for anchovies- three casts, one bass I'll stop there-
13 Sand Bass, 24 sheepheads 150 perch ( not sure which types) and some rock fish-- local partyboat score, seas have calmed and softened the overcast sky - metal gray in reflection-
They come with a 10 Fish Guarantee!- JD's T- Shirts
--
------------- Wed's Reports ------------
Broken cloud cover, wind fair from the west- light wind chop- draining tide and coastal debri , rafts of weeds flushed out with the tide- water murky- made two cast two bites one nice spotted bay bass
Off to Tonga--- the land of plenty -- a package of tackle bound to the south Pacific where veracious dog toothed tunas and other denizens of the deep live.
The X Raps will get hammered, not sure how long they'll survive- rigged them w 240 lb S/S wire, A butterfly jig, Orca's, SP Minnows and a Waxwing for fun, added in a few trolled cedar plugs provide staple catches of tuna. Single Strand wire and leader materiel , swivels and extra braid line completes the package-- Good luck- wish I was going--
Mid day the weather turned sour and cool- wind strong got the flags stiff from the west , we'll see how the water temps do by this time next week--- that waters warm and deep it'll take series of twenty of these lows to chill it down much.
Tonight starts the Newports Christmas Boat Parade, fireworks off the Newport pier kicks it off ar 6:15pm boats start the parade of lights at Bay Island and head south towards the Pavilion and counter clockwise's around the harbor.. The 106 th year, theme this year Deck the Hulls with Bows of Jolly- www.christmasboatparade.com
--------------- Tuesday's Reports -----------
Wind building from the south southeast- 10- 12 knts- seas a little bumpy and choppy. Made three or four cast and only a few light taps on the plastic fish, had to stop fishing cauz of customers back in the shop
Spoke to Russ A of Three Daughters who had come across yesterday afternoon from Avalon - water 65 mid channel and saw some hugh Kelp Paddies-- only drove by them but saw and metered lots bait under them-- Yellowtail?
For that special guy--- Something to hold his pants up with- Fish motif Belts- Yellowfin, Marin or Dorado- sizes 30- 44 only $29.95 call JD's
1- 800 660 5030
It's beginning to feel a lot like Christmas - weather's turned a little cooler--, best place I know of for a good mix of firewook- call Woodhillfirewood (949) 837-9663- Tell em JD sent you, they've got a good mix of hard wood that burns clean and warms the home -
Received this e-mail the other day-- they grow em' big in Australia ---- Stand corrected--
Hey JD-- . That picture is of a 1245# Blue Marlin caught by an old friend of mine, Capt Mike Hennessy (on the right). Mike was running the "Maggie Joe" fishing out of Oahu. If memory serves me right, this was in late 2009.


~~~~ Yipes! ~~~
------------------ Monday's Reports -------------
Coastal water took a little dip with temps this morning ranging from 62 to 64 degrees--offcolor above Newport off Huntington San Pedro at 3-4 ft vis --- getting below the harbor, it cleans up with 15- 20 ft vis- good bass fishing so far this morning
Something special that's reserved only for the special customer- Linen fishing line in 6 thread, irish green in color. Only a few spools left- give JD a call 1 800 660 5030
Sea Tow has a pair of new service crafts, foam filled hulls and aluminum body, Built for the coastguard they're bulletproof literally bullet proof windows and self draining cockpits, able to clear completely within a minute - built like a brick s--- house they look indestructible and probably able to turtle and right themselves. Power by a pair of 250 hp Suzuki 's to get there quick and bright enough to be seem for miles around -- There will be one here stationed at Island Marine Fuels for Newport/Huntington Harbor /LA areas another in San Diego- and one soon in Santa Monica
-
-
----------- The Weekend's Report ----------
A quick view of the coastal water temps here on the West Coast-from 55 to 85 degrees shows marked difference -- when considering Springs only three months away we should be in a good warm water scenario for the new season-- Stand By
------------ 2013 -------------------------------------------------------- 2014 ----------------------------
Fox Trek Travel Rods
KRD-002 Tarpon Trek 7ft Spin Strong enough to put a good bend in the rod with strength yet supple enough not to pull the hooks- good for Roosterfish or Jacks off the beach Key Features: SIC's guides, Mono & Braid between 20 & 50lb test lines, EVA foregrip Fox screw down reel seat, Gimbal and Protective Rubber Butt Cap, 5 sections, 21" transportation length Power curve @ 90°: 5.30 kilos Casting weight 100 grammes In Stock now Sells for $299.95
What better gift, something we all can use--- a three piece7 ft Sabiki bait rod matched up with a level wind no worries graphite Shimano Reel and 2 5lb test line- - Just wind up your bait catching rig directly into the rod's tip- for tangle free storage and ease . Combo sells for $129.95
--------------------------Friday- Sat -------------------------------
She's a hootin- good wind buffeted by raid bouts - only a little drop on the outgoing tide after midnight- filling till eleven this morning-- with a 1.5 ebbing tide pushed by that rain water-- wind strong from the south, seas sloppy-
Water Spout warnings and gusty south winds, Northwest clearing winds this afternoon
Private and commercial sportfishers took refuge in what safe anchorages they could get to-- Not too many boats traveling today--
Took a stroll out to the dock out front an hour after the tide turned, water still relatively clean, first cast a small bass, second cast missed the strike, third cast
a small halibut-- quit-
Tides starting to run out and a clearing westerly wind- an beautiful afternoon, sunset should be great-- this time of year the best sunsets only 8 more days till the shortest day of the year--
----------------- Thursday's Reports ------------
Gray skies forecasted to darken and rain - wind steady from the south/southeast at 12 kts, made a couple of casts- one small bass that struggled and got off.
waters remained warm at 65 degrees offcolor, green w 3-4 ft vis.
Good Christmas Gift-- something to slice up all that Bluefin Tuna for Sashimi with, Give JD's a call- $49.95
Whale watchers were out --- looing only seeing DOlpins and a few at that-- waiting for the migrations of Gray Whales due soon- they said there were moving early this year.
~~~~~~~~~~~
Still wondering where all those Striped Marlin went-- We'll find out--
~~~~~~~~~~
We have reached the halfway point in the 2014 Balboa, USA IGFA Great
Marlin Race (IGMR) where six striped marlin are racing for first place!
Check out the race page and news page for all updates!
Tight Lines,The IGFA
Aboard Nate Shill's Andreya with Rick Hult placing the 5th tag of 2014 Balboa, USA IGMR on a striped marlin 
The year's rolling on-- get ready for next year-- the 2015 Tide books are in already--call JD's and reserve yours today-- -
Not much change in the Dept of Fish and Game ( oops) Wildlife, Fishing Licence cost up as usual- it'll never go down--Makes for a nice gift- or have it ready for New Years Day- Basic "all waters" Licence at $47.01 add in the Ocean Enhancement stamp for So Calif. at $ 5.14 and your up to $52.15 for the year. They are available on-Line https://www.wildlife.ca.gov/Licensing
--------------------- Wed's Report ------------
Can you believe it-- almost the middle of December, water's 65 + , quick moving storm front pushing our way- be out of here in day them back to the norm of fair weather- mid sixty's and into the seventy's by Christmas Day-- Glassy calm out there today-- bright hazy sky wind 2 knts mixed. Tides starting to flatten out-
Water as warm as it is, the fishes have had even more time to re-spawn adding into another generation.
E-Mail this afternoon-- Dear JD: I enjoy reading your reports.
I saw that you had a nice email blog about the first marlin of the season in 1984 from Steve and Jerry.  I thought I would send this to you from the archives.
 On the heels of the extended January marlin fishing in 1984 that appeared to end on January 14th, my father (Marty Morris) had gotten a report of some feeders being seen off Pyramid by some commercial boats.  Our boat, the "Ken-Dan" was stationed in Marina Del Rey and my dad father whisked me out of high school on a Wednesday to help run the boat all night so that we could be off of Pyramid by morning time for a half day of fishing on February 1st.  I was watching the jigs and sure enough up pops a hard follower at 10:30 in the morning.  I tried dropping back a dead mackerel, which is all that we had in February.  Before getting it out, the fish took an outrigger line and our family friend Bud Perkins got a 193 pounder in about an hour that I gaffed and that we then weighed in at the BAC on February 1st  for what I believe to be the only marlin ever caught in Southern CA waters during the month of February.  If there was a bite, my dad would be out there and if still alive he would be chomping to get out there right now to get a December and possibly January or even a February marlin! Regards, -Ken Morris (the Ken part of the Ken-Dan)
Another good gift idea from Shimano--
BORONA TACKLE BAGS
Features a front opening for easy access to your Plano utility boxes, which are included. Molded interior trays are removable and adjustable for a customized fit. Side zippered pockets for additional storage. Padded adjustable shoulder straps for hands-free carrying. Available in 2 sizes.
BOR120LNV
Large
Navy
17" X 12" X 11"
Durable Textured Fabric Construction

$119.95

BOR100MNV
Medium
Navy
14.5" X 9" X 8.5"
Durable Textured Fabric Construction

$139.95
Call for free shipping-- JD 1 800 660 5030
~~~~~~~~~~~~~~~~ ~~~~~~~~~~~~~~
Sad note to pass on - one of the friendly faces of our fishing community passed away earlier this week- Craig Oliver who's been a strong supporter of the BAC angling club a friend to most of us and fished many of the tournaments and overall a great guy- sorry he will be missed- further details later- JD
---------------- Tuesday's Reports --------------
---Hope the computer works --- they say worldwide security cyber attacks on web servers causing problems--
Another lazy haze morning with light overcast and clear skies behind it- tide was full at 10 am with a full on Calico Bass bite along the coastline-- Decker's out again with clients released over 40 by the top of the tide--
Private and commercial sport boats out to the outer banks of Tanner and Corrtez today- taking advantage of what weather there was in attempts at the tuna fishing-- with all that skipjack around maybe a Blues is still hanging ut there?
And still Striped Marlin around- Ventura, Catalina or Clemente warm spots might be a shot at the last one of the season this weekend after the blow goes by--- stand by--
With talks of the First or Last billfish and tuna around the end of the year/ New Years Day-- E-mail from Jerry G and Steve B this morning--
The first Marlin were taken New Years day and I seem to remember the '84 fish
was on Jock's boat. Seems like that could happen again. Happy Holidays, Jerry
Yes, caught by my brother, Bill. They had a little too much to drink and a New Year's Eve Party and decided to go Marlin fishing on a whim.
They were east of Pyramid in 65 degree water about 1:30 in the afternoon, with hangovers and had just changed course of the El Galleon, when they got bit on all 5 jigs. Bill was below fixing a peanut butter sandwich and thought Jock was pulling a prank. Bill caught the first and Phil Olson caught #2. You can imagine my surprise when I got the call while watching the Rose Bowl game. Will never forget the weigh in. There was a big crowd at the BAC to see the weigh in for themselves, including Kenny Dickerson, Jim Donnelly, Ed Cleland.
Steve Bridges
Stand By-- JD
Fox Travel Rods
KRD-006 Permit Trek Spin Spin 7ft 10 to 25 lb mono or braid. Although initially designed for targeting big permit this adequatelydoubles up as a fun rod when fishing for snapper, jacks and small Roosterfish. low diameter lightweight blank with very fast tip . Key Features: 4 sections, 25" transportation length Mono or Braid 10 to 25lb Casting weight 50 grammes $249.95
------------------The Weekends Reports ------
Still working on a few computer glitches-- JD sorry-
F
at Lady Singing--- not yet--VENTURA COUNTY MARLIN !!!!!!!!!    -- E Mail from Eric Hermann , ericsboats@msn.com President of Executive Yacht and Ship Brokers / PARKER BOATS ~ Channel Islands Harbors- Premier Yacht Brokerage Since 1969
My son Bryce Hermann and his buddy Pat Obrien were fishing aboard "LEGIT " amongst the fleet along side the charter boat "ISLAND SPIRIT" out of Ventura Harbor . They  captured that photo because the fish erupted 5 ft off their transom , dancing thru the air - while everyones jaw was on deck. . A short battle that resulted in a break off , but glad the photo was taken because no one would believe it  . Numerous boats witnessed this awesome event this morning off Ventura Countyline , aka. DEEP HOLE
My son just sent me this picture of a Striped Marlin that jumped 5 feet off his transom with a hook in its mouth . The fish was hooked by a fisherman aboard the ISLAND SPIRIT  on a mackerel in 130 feet of water while soaking for yellowtail on the coast .. Amazing - sure supports your comments the other day about the body of water still lurking .  See the islands in the background ?  Fire the boys up and tell them to get the gear back out of storage !    MARLIN XMAS 
-----------The Weekends Reports ------ -
Hazy lazy day-- wind from the south - water temps - if anything have come up a degree or two-- 66.2 off Newport this morning
Baitschools of anchovies up on the surface in the mornings high tide slack -
Was asked the other day just how long we might expect these tunas to hang around-- A offshore look at water temps from 50 to 85 degrees for the West Coast reveals the warmth of the water extends from So Calif westwards all across the Pacific from here, to above Hawaii and to Japan it's 65 degrees- no telling how long they will hang around but it doesn't look like water temps would be a factor in driving them away--- maybe New Years Tuna-- Reports from the Cortez Banks speak of all the Skipjacks around-- who knows maybe a big marlins is still out there!!
-------------------
E-Mail- Hey JD -- Picked off this guy below Cedros 11/10.  Note the X-Rap in his mouth.  We tried to weigh the fish but the scale bottomed out. I'm 6'-1" so the fish must be 6' or so....Good Vibrations
Fox Trek Travel Rods - from light spinning outfits to big game tackle in stock at JD's Give us a call 1 800 660 5030 - they sell quick and more are on order for the Christmas Season -
Stand Up 30- 50lb rod
7 ft Sailfish Spinning rod,
------------- Fridays - ----------
Couple of yachts headed south this week - one to Panama, she took on 11,050 gals here.! Cheaper here than there--
Whale watchers out today satisfied with a few dolphins- no other mammals around- water temps 65.5 degrees same as the past few days-- -
Baja report comes in-- fishing from Turtle to Asuncion- 3 wahoo's - one nearing 60 lbs and a bunch of dorado and smaller yellowfin tunas-- good weather, good fishing--
I get to work on lots of reels over the year - Penn has had it's ups and downs but they've always stayed with the principle of high quality raw material and in the Fathoms case they still reign top dog for performance under lots of use--
JD's offers them - 12- 15 25N and 30 or 40 sizes great reels, great gifts and great price starting from $200 - give JD's a call 1 800 660 5030- "Mackerel" the secret password and get free shipping and free line-- don't forget mackere1!- JD
Live Spindle design
HT-100 drag system
5 shielded stainless steel ball bearings
Instant Anti-Reverse bearing with silent back up ratchet
The PENN Fathom star drag is lightweight, quick on the retrieve, and extremely castable due to its revolutionary Live Spindle design. The revolutionary Live Spindle design makes the Fathom SD one of the longest casting reels on the market. A Full Metal Body and sideplate keep precise gear alignment under heavy loads, and the powerful HT-100™ drag system will stay smooth from start to finish.
~~~~~~~~~~~~~
EL NIÑO/SOUTHERN OSCILLATION (ENSO) ENSO Alert System Status: El Nino Watch  El Niño Watch
: There is an approximately 65% chance that El Niño conditions will be present during the Northern Hemisphere winter and last into the Northern Hemisphere spring 2015.
During November 2014, sea surface temperature (SST) anomalies increased across the central and eastern equatorial Pacific At the end of the month, the weekly Niño indices ranged from +0.4oC in the Niño-1+2 region to +1.0oC in the Niño-3.4 region . The subsurface heat content anomalies (averaged between 180o-100oW) also increased during November as a downwelling oceanic Kelvin wave increased subsurface temperatures in the central and eastern Pacific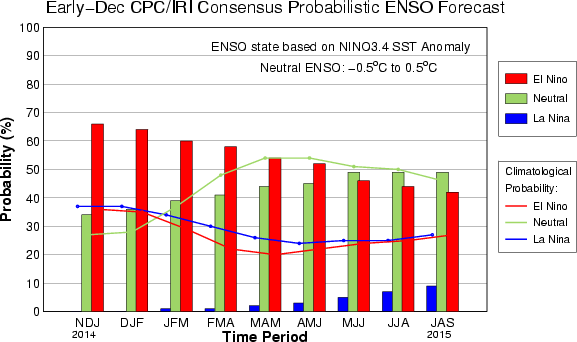 However, the overall atmospheric circulation has yet to show a clear coupling to the anomalously warm waters. The monthly equatorial low-level winds were largely near average, Although the SST anomalies alone might imply weak El Niño conditions, the patterns of wind and rainfall anomalies generally do not clearly indicate a coupling of the atmosphere to the ocean. Therefore, despite movement toward El Niño from one month ago, the combined atmospheric and oceanic state remains ENSO-neutral.
Similar to last month, most models predict SST anomalies to be at weak El Niño levels during November-January 2014-15 and to continue above the El Niño threshold into early 2015 . Assuming that El Niño fully emerges, the forecaster consensus favors a weak event. In summary, there is an approximately 65% chance of El Niño conditions during the Northern Hemisphere winter, which are expected to last into the Northern Hemisphere spring 2015
Tides running hard with the outflow-- probably not the best water to go swimming in today-- first good slouching of water and flushing we've had for quite a while, every bit of trash and poop will be washed out with it--
The questions comes in - on how the fishing was along Baja's peninsula these past few days- A check with the Royal Star Long Range trip-- looks like Wahoo Fishing the biggest Game in town- better get the wire out!

Photo today features Royal Star legend Ed "Skip" Dahlkamp
Tim Ekstrom
In
Costa Rica with the family.  Fished out of Telemundo and we release seven Sailfish on a 38' Topaz.  Check out the attached picture of my 7 year old grandson, Joe IV on his first Billfish.
Best to all, Old Joe
------------------- Mondays Reports ----------------------
Water still holding strong-- local temps 67 degrees and deep blue clean almost too clean with visibility 20 ft or more-- Seas calm this morning-- light 1-2 ft short swell from the southwest, no wind-- gray skies-
Spoke to a fellow who came in the shop - yesterday he's fished the outer bank, Tanner with his best bites coming from slow trolling the baits, sardines they'd picked up from Dana , Fish were a little deeper this week vs the past few weeks he'd been out there--180- 190ft. a wind ( S/W) against current (N/W) put them into the slow trolling method picking up dozen bluefin and a great catch of Yellowtail as they cast iron to them. The boats S/E of the Cortez were into the yellowfin and tails. Seas were on out there but coming back between the two islands it got rough , very rough- glad to get back in the harbor late last night.
-------------------- The Weekends Reports --------------------
E-Mail this morning- Hey JD-- We caught a few 12" macks at the jetty and trolled them around the east end.  Picked up two yellowtail and a giant bonito in about 45 minutes at Church Rock.  Made it to Avalon in time for a sunset cocktail.  Cheers! Chris
--------------------- Sat's Reports ---------------.
Reports from the outer banks- Cortez and Tanner-- the Yellowfin are still out there--20-35lb fish - partyboat this morning by 9 am had over a 100 fish aboard- remarkable for this time of year
Just had a big school of yellows up-- sea lion got a few , saw a private boat get one, Patriot got one, Clemente got one-- we haven't got any yet-- we had a giant school come under us-- just kept on going- ( fishing front side of Catalina- Hen Rock area) 11:30am
-
-------------- Fridays Reports -----------
Flat as a pancake- seas calm and fair-- pale blue skies no wind- hot
Whale Watchers looking for signs of that pod of Killer Whales seen off Dana earlier this week-- only porpoise seen so far--
Water temps 68 degrees and it's almost December- where's the marlin !
How you doing?- it's flat calm water 68 grease we're deep dropping off the East End of the island, dosen't look bad here at all- looks promising- where are you-- outside Dana-- you looking for the purple ( wahoos) ones--oh, we've got a couple out--
What 'd you do today---you outside the Box --- we we're dragging some lures on the outside - it was 68 inside the 267m should be something there, heard of a report of yellowfin off the inland yesterday we're in 220 ft of water fishing yellows drift fishing saw one of the party boats all bent over-- about 2:00pm right after the tide turned then they went away.
Couple of boys came in the shop mid late in the afternoon- purchased a bag of Gulp Jerk shad (nuclear chicken colored) -- first cast right outside my door --- nice 14 3/4 inch Spotted Bay Bass-- they work!
--
So the questions asked-- when was the last marlin caught- -- couple of weeks ago-- are there still out there, should be-- there hasn't been any major storms from the N/W driving them out of here-- waters remained warm and baits still around, especially up against the islands- Clemente's lee and the 289- Ridge or out towards the Cortez- they've seemed to head late in the season-- should be some still around- the Fat Lady hasn't sung yet-
An overview of the water temps from last year this time ( L) and of this years same time frame (R) -- 60- 75 degrees
---------------------- Wed's reports ---------------
A- water 64+ 65+ looking good a bit green but clear flat calm, not much current uphill or down- You have to make you own bait now-- and sea lions are still a problem- - lots of organic plankton doing well in the sunlit waters.D
---------------------
Private sportfishers headed out to the outer banks today and fishing tomorrow and back for the holiday weekend-- others laying off till after Turkey Day and heading south to Mexico-- Baja's got some weather now but due to back off after Thurs. Tanner and Cortez 14 sec 6 ft swell 8-15
knts NW wind today and tomorrow- very fishable, Remembering last years developing Swordfish catch was best the first weeks of December off the back side of Clemente Island they made their whole season up in a couple of weeks !
Our water temps from 63 to 72 degrees-- a check with the water temps off Newport this morning starting at 65 dropped to 64 early mid day- 10 ft vis
And a look at the Baja Water temps fro
m 65 to 82 degrees
---
Good youtube on Striped Marlin tagging efforts--JD
- -the Weekends Reports- such as the are- ------
Coastal fishing down to the bass and halibuts-- windy offshore, especially off Huntington/ long beach drainage and the offshore flow off Salt Creek and Donenny
Couple boats out after thresher sharks-- don't think they got any--
Whale watching boats speaking of a diminishing bait availability for their whales
--------Sat's reports ----
Seals being out of control- from the surface to the bottom chasing hooked fish and scarring the rest away-- boats fishing the outer shelf from San Pedro down to the oil rigs- 150 spot, double rigs- bottom fishing for reds etc
From the lack of radio talk I'd guess not a whole lot of boats out-- whales watchers and coastal fishermen after bass or halibuts was about it-
Mag Bay Fish Report-Full Circle-- Hi JD,

We left on our vessel Full Circle on November 2nd. Fished our way down to Magdalena bay. We caught and released five stripped marlin and boated some Dorado, small yellowfin & yellowtail. My group departed Full Circle on Nov.10th and flew back to LA from Loreto. The next group with Robert as captain caught a large Blue Marlin which they gave to residents from small fishing village in San Carlos. This will feed a lot of people! Also boated 19 Wahoo & 27 Dorado right outside of Entrada Mag Bay.
Full Circle crew caught and released a second hefty Blue Marlin. They are now making the trip back to Newport with freezers full of fish! Best, Kasey Sherrill

------------ Fridays Report ------------
We're back in the saddle again--Yahoo----- - Whole new system- computer, printer etc-- new programs -now I've just got to sell another 1,000 bags of anchovies to pay for it all- it's like getting married again-- who, what, where--and how--- It'll take a few weeks to get things sorted out-- forgive me -
- what'd I miss--??--- - not a whole lot --- we're still with the last marlin of the season locally by the Pacific Pioneer, a bunch of halibuts taken and what encourages me the most is the amount of samll fry bait fish in the waters-- At least two spawning and probably three spawns events have occurred this Spring, Summer and now early Fall seasons as multitude of 3/4 inch then 2 inch and 4 inch fry are observed in the bays and harbors and along the coastlines - And that goes for all the other fishes- bass spawning again - halibuts, and almost all fish have have a second or third crop this year-- that bodes well for two and three years from now-- JD
Wahoos and Dorados filling the sacks for those traveling into Mexico- The Cape and East Cape also good wahoos--
d
---------
----------Old Info --- Reports , Photos for this season---------------------
Rainbows over Newport The morning starts out with a few bouts of wind and rain under the clouds as they swept by- seas fair- expecting more of a westerly this afternoon to build- tailing weather--
---
Pacific Pioneer - Released one!! Congrats!! 4 off seal rock Catalina east end of the island-- 69.2 lots of life, birds, porpoise, bait no one here --we're the only boat out here-- Sheet glass conditions-- tough fish almost a hour long battle the fish had only half a bill on it-- ( we call them william for short) - absolute sheet glass out here today--haven't had a ripple in two days,, zero, zero, zero yeaterday Jig fish today mackerel clone! -

Those fish were at box canyon off the domes in 215 feet of
water, 72.5 gorgeous blue water John M.

-

------------------------- ------------
Monday morning wahoo
----
Heads Tails
We tried fishing for the yellowtail but got tired of all the seals taking them-- must have been 40 boats fishing there-- so went trolling off the domes -- water 69 degrees-- we had two other bites but they didn't stick -- this one did marauder black and purple-- nice 45lbs-
--------------------
All we've been seeing is straight wahoo-- swimming on the surface-
we're down here at the numbers from yesterday's wahoo- must be 40 boats here-- some are fishing yellowtail others wahoo and others marlin-- party boat coming down here to fish the yellows got a wahoo on the maurader-!-
Caught 1st one around  1:30PM second 3 mins after marauder went back in on Dawghaus
-----------
--------------------
Photo's of Geoff H's released marlin yesterday trying to throw that Mackeral Clone!
Radio report-- from one boat on the A bank to the East end--- for what its worth-- we got spooled on 50 lb outfits with Blue Marlin lures! right on the 152 ( East end of Catalina) - birds, bait seals-- two big holes on the strikes--- never saw em', never as a windshield wipe, just big holes and the reels dumped out line-- before I could get the boat turned to get the belly out of the line they both came off! That was about a hour and a half ago-- 1:12pm
----------------------------
-------------
JD just wanted to share the dorado Dustin Cookman
Caught. The fish was a 30 lb bait fish on 20lb dacron we were seven off the beach between the 14 and Dana Point
-
Wahooooo------ Bill Seiler aboard Nuevo with Dave and Derek New------ Congrats-- JD . Billy had been after the Whos for the better part a week now- got one!
-
-------------------
Here's a pic of one of those dorado hanging around the 14 mile bank.  Big fat female dodo.  Pic doesn't do it justice.  Ended up with 3 after farming a couple.  Never saw any bulls swimming around.  I can only imagine how big they are….
Cheers,
Ali

JD- yesterday off Newport we spotted what we thought was a pack of tailing marlin. My dad cast a mackeral on them but was immediately bit off? Very strange we thought. They popped back up again and we approached them a second time; that's when they swam right off our bow and we realized it was a group of 3 wahoo. I jumped in and shot one with the speargun! Wahoo tailers on a glassy day in mid October, definitely amazing.
( I'd heard the wahoo tailing like geese in a "V" shape pattern right on the surface-JD) -
Hey JD, Here's a picture of the Marlin we caught yesterday on the Kea Kai. We were happy to  get our second satelitte tag deployed! It was a sleeper that ate a perfectly casted mackerel by Jock A. The fish put on a great show for us. Sam Long did a great job wiring the fish. Dave Elm placed the tag and I captained the boat and got a few good pictures. Ryan Griffin
Updated IGFA website with the BAC's Masters Great Marlin Race with the information and
the news page along with the photos.
-
Let's hope these marlin stay around for the rest of the Fall season-- even if they don't-- the groundwork has been laid we'll be able to follow their paths of migration in a few months thanks to the efforts of these boats and their sponsors. Next year and the following years we hope to establish a better understanding of these exciting gamefish of the sea--
Hi JD, Here's the latest update on the MABT Great Marlin Race:-


Fish #1 -Team Charisma, Tuna Club of Avalon - Tag deployed on September 12th
Fish #2 - Team Hooked, Dana Angling Club - Tag deployed on September 12th.
Fish #3 - Team Kea Kai, Los Pescadores Fishing Club, In Memory of Joe "Grrr" Houck - Deployed on Sept 18th.
Fish #4 -Team Joint Venture, Tuna Club of Avalon - Tag deployed on September 27th.
Fish #5 - Team Andrea, Balboa Angling Club - Tag not yet deployed
Fish #6 - Team Kea Kai, Tuna Club of Avalon - Tag not yet deployed
Fish #7 - Team  Royal Slam, Balboa Angling Club - Tag not yet deployed
~~~~~~~~~
  Unbelievable fishery
-------------------- Reports ------------------
The only other Big Blue Marlin I know of being weighed was 1931 Alfonse Hamann;s 692 lb fish, 13 ft 5" 65" girth 1hr, 52mn battle for a Marlin, called a Swordfish, or Striped Marlin it was A Blue
So Steve calls in-- they got the Blue-- stuck around looking for the Swordfish-- find one-- bait it-- but it doesn't take the bait--- close--- heads towards Avalon to weigh the Blue-- dragging a couple of marlin lures and hooks a striper and release it- off the east end of the island 15/10 -- can't get much better that that! - - catch a Blue, bait a Sword and release a Striper all in one day off So Calif-- Remarkable!-- 3:44pm
462lbs---
And the Don Juan-- just leaving Newport this morning--- water turns brilliant clear blue several miles out-- why not put em' in--- Bang -----Wahoo- est 50lbs-- slams the rigger Flying fish lure - boated! -- that's the way to start the day! 51.3 lbs!!! Congrats caught it on Dacron line too
--------------------------
E-Mail Report this morning-- Hey JD-- Fished with my good buddy Ken Schilling, and Russ out of SD on his boat Sunday.(302)  We had 5 marlin releases that  came  from 3 triples, we got 4 of the fish this way.  We spotted Elvis, had to change gears from 20lb drop back to something bigger.  Boat was stopped and the gear coming in, strippers were all over us trying to eat the jigs dangling  in the water from the rod holders. It was like being in the middle of a fish bowl. Wild, at the last second the skipper took a look at the size of Elvis and threw behind the boat instead and we were hooked up to another mean stripper again, that was fish #5.  Best day ever fishing.  I had 3 fish for the day as my fish never fell off.  All the fish came to leader at least 3 times before the release, very tough fish, One we estimated to be 200 lbs plus.  2 bait fish, 3 jig fish, and a successful double release with fish off both ends of the boat.  All the fish put on great aerial shows, and would not give up.  No 10 minute here! here Chuck (Cowboy).
-
Hey, JD we got a double jig strike late yesterday outside the lower 9, thought it was Marlin... Surprise!! Landed both on Marlin jigs that fortunately had wire double hook rigs. Aditionally we have totaled 5 marlin mostly off the 302 over the past week. Scott H. Crusader
---
-----------------
E-Mail from the San Diego Marlin Club Greetings JD
We had some good fishing for our ILTT 10 Boats - 5 fish caught ,4 releases (3 Tagged).
Our boat was the winning team with two fish on 20#. I ended up being Top
Angler with a fish on 20# in 44 minutes. I believe the tournament  had a
total of 12 or 13 hookups, mainly grid 67 One of the caught and released fish was positively identified as a Blue Marlin,which was caught by the Lively One.The Lively One also caught and released a Short bill Spearfish.
During our awards dinner on Sunday Bob Woodard JR. brought a 39.8 Wahoo into the scales-this was caught on the inside of the 9 mile bank.That same day we also weighed in a Blue Marlin (126 lb),that was caught at the Hidden Bank-they also reported two more hookups that appeared to be Blue Marlin.. Wayne S

And more Blue marlin reports and those Damn Peaky Sharks are still showing up! Damn Sharks
I was fishing with a buddy yesterday on his 44' Pacifica "Victory" about 8 miles NE of Pyramid when a 500+ pound blue bit a black and purple Zuker 3.5 trolled on the short starboard corner.  It bit and came greyhounding up the starboard side of the boat and kept going leaving a trail of white wash for a few hundred yards.  The owner of the boat did a great job chasing after it bow first and we got up and down on it in about 20 mins.  10 more mins making progress trying to put the hammer to it b/c I knew we didn't have a chance in a long fight with 100 lb 6 foot mono leader and 50lb main line. Now or never. For the last 15 mins it was holding about 20 feet down below the transom swimming away from us slowly as we were backing down.  It took one nice tail kick and busted off after 45 mins total fight time.  I snapped this pic on the third and final jump after the line broke; it seemed like F&%$ You jumps Another interesting note: I almost threw bait on a well-manufactured fake Marlin sleeper made of a T-bar PVC pipe with a vinyl cutout of a marlin tail even painted with a metallic navy blue.  Very impressed with the thoughtful construction.  I gaffed it and took it home.  Damn Pesky Sharks! Brian Rapf
--------------
Hit a black and purple Cousins lure-- Andreya-- Wired---12:09 pm-coming back from the island-Shipping lanes-- - Swordfish hits the Jig--- Coming back i
nto Newport in an hour-- photos coming-- Congrats-- JD's ---- they found Elvis-- rigger goes off thought it was a marlin--- get it to the boat---- we're all still shaking in disbelief! pretty amazing, Nate Shill the angler-
I've only heard or seen a few swordfish taken on lures mostly black and green or black and purple- this on hit the 1220 flat faced pusher head Cousins Black and purple - 30lb tackle-- basically it made the strike tried to shake look e the hooks then sounded
They were carrying the Great Marlin Race tagging system think it was a small marlin they could tag it-- but as they discovered it turns out to be a broadbill swordfish-- -
Not a big fish but a
Not sure if Rodney got a hold of you but we hooked up to a monster blue marlin yesterday. 4 miles above the 289 after a little bit of Tuna fishing with Cory Wells, Jim Wells, Danny Uribe on Provider, Rodney made the call to put in the marlin jigs. Trolled for about 15 minutes when the left rigger went off. A big blue marlin shot out of the water and started running right at the boat. Rodney made a quick maneuver to miss the on coming missile. As the fish ran past the boat the line broke followed immediately by the sound of the right rigger clip popping and clicker screaming.
------------- ---

!
-

Jock on the Kea Kai just called in releasing another fish - ----- with a Great Marlin Race satellite tag-- 95lb fish healthy and actively on his way-- Congrats to the fleet-- JD
~~~~~
--------------------
8 Clubs, 49 boats, 193 anglers
24 hook up- 15 fish released, 1st Day 9 releases/ 2nd Day 6 released fish
High Club Award went to Pescadors Team #1, 2 nd High Club Award to the Dana Angling Club Team #1 and 3rd High Club to Tuna Club Team #1- Congrats- JD
High Boat Bounder, 2nd Kea Kai, 3rd Poco Loco
High Angler Jock Albright 2nd Bill Buchannan, 3rd Rod Halperin, 4th Vick Sommers, 5th Calen Offield, 6th Drew Lawler, 7th Bob Denault, 8th Brian Fox, 9th Alyson Gillet, 10th Linda Crean, Circle Hook award Vick Sommers
The Great Marlin Race--on the first two fish of the tournament the Satilight Tags were deployed in their releases-Congrats to the Charisma representing the Tuna Club of Avlaon and the Hooked representing the Dana Angling Club for there efforts we are all indebted, thank you.
In 180 days from now the tag will pop to the surface and transmit where these two fish have traveled. A bit of data processing to see which fish traveled the furthest wins the race. And the main reason for the use of the tags is scientific. by then to have recorded all the water conditions and lay track of it's migrations journey though these conditions. And more great news , the other Sat tags not used in the tournament will be used in the next 60 days which keeps them study pool to get a better sampling- best of luck to the other tagging efforts- JD
-
~~~~~~~~~~~~~~~~~~
---------
----

8/30/14
Team Joker in the 267 area.
Angler Eric Kin
Skipper George Garrett
Gaffer Ted Royal


Species - Wahoo

They plan to head in today and weigh is at the BAC.

Let's throw more gasoline on the fire--- if it's hot now-- stand by not only will you have to start trolling marauder Wahoo Lures-- better break out the Bent Butts-- Positive ID on a 600- 700 lb maybe bigger Blue Marlin off the 312 Fathom spot-- ( outside Oceanside) !! Stand By !!!!!

So Eric hadn't put any of the yellowfin tuna they had hooked on the deck, lost three----

running between spots of fish up they trolled an X-Rap 20 --

-goes off

--- his friend says- you take it-- it's yours -thinking maybe it's a dorado-- --

- he's on

--- George G. at the wheel- see's the line take a heavy plunge--

it's a healthy fish-- take your time-

-- no idea for sure what it is--- Eric's an experienced angler and gets the fish to the boat

--- #@%&*%$#@!@1#3 a few words are discussed-- don't loose it at the gaff! ---- it goes in and over the rail-- -- Unbelievable--

Wahoo 28 miles out of Newport, below and inside the 276/ 279 fathom spot (outside Dana Pt.) water was blue and nice-- C

alstar Rod GFTR 756XL, Shimano Talica 20 2 speed -60 lb mono and a Rapala XRap -20 Sardine-

- ! Congrats JD- I don't recall anyone ever catching a Wahoo here before! 50.1 lbs---Eric Kim of Fullerton, Ca 8/30/14
-------------
-------------------------
------------------------------ -
-
------------------- -
------------------ -------------

--



In an request from biologist Owen S. of Southwest Fisheries Science Center The problem is, it is hard to get samples of marlin caught off California. I could use tissue and anal fin samples from any marlin that are kept. If you hear of any marlin killed and kept please let me know. For future samples we'll need the entire fin including the base that attaches the the body owyn.snodgrass@noaa.gov
Southwest Fisheries Science Center
  8901 La Jolla Shores Drive
  La Jolla, CA 92037-1508

Hey JD, we released a marlin Saturday about 8 am midway between the 14 and Avalon bank on the Janice O.    The fish came in and hit a rapala before switching over to a black/purple tuna feather behind a daisy chain.  Congrats to Berkele
--
1st Marlin Released --- Congrats to Todd P /Billy and crew for caching and releasing the First Marlin of the Season-- it's going to be a great season- stand by--
---------------
The fish is being smoked and the skeleton and head were picked up by a researcher from NOAH at Scripps to be studied-------
------------------ Friday's reports ----------------
-------- First marlin of the season caught-- above the border-- weight 185 lbs-- big fish!! ate a cast bait-- 181 area-- caught July 3 on the 181 by Oceanside's Jimmy Linville weighed 185 lbs caught on bait---photos coming-- Congrats---JD
-----------------------
Hi JD,
I went fishing for my birthday , came up with this 40lb WSB off of Santa Rosa Island. Drizzly morning , but finally calmer weather !

Happy 4th of July!
Kathy

---------------
JD. Did you get the pic of David's halibut.  4# line on the troll. 28.7#. Yesterday.  In the harbor.      Regards.  Hal
]


And less us not forget the young ones who enjoy the sport of fishing-- released alive and well est. 5 lb Spotfin caught by Rick H's
son with -- naturally a gob of mussels-- nice catch!]
1st Tuna BAC and Tuna Club 2014 --- Hey JD--- My 9 year old Trey caught his 1st Tuna yesterday 16.2 on 20lb test line to capture first fish flag honors, then promptly are the fishes beating heart! Sea Myth II , Trent S.
Trey Smith (9 years old) on 20# Dacron – 16.26 lbs. caught on June 30th at 1:27 p.m. 
---------------------------------
And making the run south to below San Onofre, Dave E. and son Dustin put's on a pair on too- The WSB went 53lbs The YT was 36.7
------------------------ -----------------
Fishing the old stuff- known as regulations tackle, AKA Linen fishing lines-- 6 thread linen lines, both the Balboa Angling Clubs and that of the Tuna Club of Avalon records were challanged this weekend as anglers who were trying to break the past years catches- Paul H. had it-- them Pete B took it - it's test is under 16 lbs ( dry) made from twisted lengths of linen flax. JD's tackle is the only tackle shop in the world which sells this fishing line!- Put a challenge in the game- JD
The newest and greatest Hi-5 Lures direct from Cabo San Lucas, produced by master lure crafter Ken Matney - he's secret weapon the silver bullet, the best Dorado he's ever made-- some even have cut Mylar flying fish wings on them.
--------------------------------------
2014 Fish Catches

And Hoose shows off hisYellowtail taken on 12lb test dacron--- nice catch!!!
Penn Fathom 12, Cousins rod, 12 lb Dacron. Epic battle on light tackle. Hoose Pending World Record-- Official weight 45.6 lbs
Hey-- JD
 
Still  here in Port San Luis about 27lb
----------------
Got one today------- but that's as high as she could lift it up.!! 
r--
------
Congrats to Aaron Jeffrey of SA with his 152.3 lb Opah!---
- --
ine ?
Making the crossing back from Catalina--- yellowtail fishing and got em'--- but the bigger news -ELVIS - of seeing a big Swordfish right on todays slack tide in the Shipping Lanes-- having not the bait nor the tackle they just watched-- Stand By!
---
\-
-------------------------- ----------------
Could 'a. would 'a should' a-- that's what we said after weighting in the 65.0 White Sea Bass taken this morning by Mike O. fishing under the 30lb tackle category it would have topped the BAC's fish board for the year- beating out Vicks 59 fish from yesterday and just shy of a club record on 30 be a couple of pounds--- ---Could 'a. would 'a should' a- paid up my BAC dues for this year--- sorry-- doesn't count--- - a lessen to be learned-- all the time money and efforts, really not, for nott cause he's really out just for the fishing-- but it would'a, should'a 's and could have been a BAC winning fi
Stayed good for all day-- seemed like it was going to switch and come around from the west but it didnt, stayed southwest all day- --just right -- didn't made the run for nothing--- came up with a nice 59.6 lb WSB caught it on 12 IGFA line-- not quite a BAC Club Record but close-
The warming El Nino waters bringing us a varity of fish species - from Chris-
JD--  We saw lots off these under the paddies offshore.

What's this - called Jack Mackerel, Trachurus Symmertricus, AKA  Spanish Jacks,  horse mackerel,  - warm water species, a member of the Jack family not a true mackerel-
And from a fish washed up on the beach out front of Newport--- What's this?-- you tell me???? Pacific Hatchetfish, Argyropelecus affinis: The Pacific Hatchetfish has a disc shaped body that tapers toward the end. The body is silvery in color with a black band at the top and a prominent row of photophores along the base. They have transparent anal, caudal and dorsal fins and a very long and narrow tail base. The anal and dorsal fins are without spines and contain 8 to 9 and 12 to 14 soft rays respectively.
They can be easily confused with the Tropical Hatchetfish, Argyropelecus lychnus (oval body, shorter tail base).
The Pacific Hatchetfish is an oceanic and mesopelagic species found in all tropical and subtropical waters of the Atlantic, Pacific and Indian Oceans including all Mexican oceanic waters. They reside primarily between 900 and 2,000 feet in the water column and reach a maximum length of 8.4 cm (3.3 inches).
The Pacific Hatchetfish is a member of the Sternoptychidae or Silver Hatchetfish Family. They are a marine, deep-water species found in the bathypelagic zone, i.e. between 600 and 1,800 feet, where it is dark, cold and without plant life with high water pressures.
At night they undergo mass migrations from depths of up to 12,000 feet to as shallow as 150 feet in search of prey returning to the depths at daybreak. They consume small crustaceans, such as amphipods, copepods, krill, seed shrimp, and fishes smaller than themselves. They are believed to be short lived with many fishes living less than a year. They spawn in open water and do not guard or otherwise care for their offspring.
They utilize counterillumination (with light being generated from a series of photophores) that produces light that camouflages their silhouettes from observers lurking below. Fossil records indicate that these fish have existed from the mid-late Eocene period, about 40 million years ago.
Hooked started the weekend off r
ight. Last squid in Tank Mike W. caught this 28.85lb WSB
Not the scores I was hoping for today-- but those that got our enjoyed the day on the water-- light westerly sprang up mid- late afternoon but not enough to matter-- a few Black Sea Bass mauled the baits that were set for the White Sea Bass and of course there were the sharkers out--
-----------------------

LONG-TERM AVERAGES FOR THE NUMBER OF NAMED STORMS ARE 15,, 8- HURRICANES, AND 4 MAJOR HURRICANES ,
THE LIST OF NAMES FOR 2014 IS AS FOLLOWS:---NAME PRONUNCIATION /NAME PRONUNCIATION
---- AMANDA UH-MAN-DUH, MARIE MUH-REE, BORIS BOR-EES, NORBERT NOR-BERT, CRISTINA KRIS-TEE-NUH, ODILE OH-DEAL, DOUGLAS DUG-LUSS, POLO POH-LOH, ELIDA ELL-EE-DAH, RACHEL RAY-CHULL, FAUSTO FOW-STO, SIMON SY-MUHN, GENEVIEVE JEH-NUH-VEEV, TRUDY TROO-DEE , HERNAN HER-NAHN, VANCE VANSS ISELLE EE-SELL, WINNIE WIN-EE, JULIO HOO-LEE-O, XAVIER ZAY-VEE-UR, KARINA KUR-REE-NUH , YOLANDA YO-LAHN-DA, LOWELL LO-UHL, ZEKE ZEEK
-

The 2013 HIBT- IGMR is a wrap, and what a race it was! With three tags completing the full deployment period of 180 days and a new distance record for Kona, this was definitely one of the most successful HIBT Great Marlin Race events ever.  

Congratulations to Marty and Mitchell Firestein of the Balboa Angling Club for sponsoring the tag that was placed on this event's winning marlin. At 2,883 nm, this is the longest distance recorded in an HIBT race and the second longest distance in IGMR history. Following in second place was a Pacific blue marlin sponsored by Bob and Sally Kurz and Rocky Franich that traveled 2,101 nm where the tag reported near Tahiti. Click here to read the full details of this year's race results.


Our thanks go out to IGFA Representatives Bob and Sally Kurz and IGFA Trustee Emeritus Peter Fithian for coordinating yet another great race at the HIBT.
Additionally, we would also like to thank everyone who sponsored and participated in this year's IGMR. It is through your support that the data generated from this project continues to grow and has already revealed some amazing marlin migratory patterns. All data collected through the IGMR is available to anglers, scientists, and managers worldwide and will help provide valuable insight into their use of the ocean habitat.

Once our partners at Stanford University interpret the data, the remaining tracks for the Kona, USA 2013 IGMR will be available. In the meantime, we invite you to see your marlin's tag deployment and pop-up locations. Best,
The IGFA
PS: The 55th HIBT will be held July 26 - August 2, 2014. We invite you to reserve your tag for the 2014 HIBT IGMR by contacting Bob Kurz, HIBT IGMR Event Coordinator.
----
-----------------------------------------------------
Just in--Trek Travel Rods by Fox -Sailfish Trek Spin 8 ft KRD-
008 The 8 ft length lets you make long cast and soft tip prevents hook pull out's Also very good for beach fishing Fox SIC's guides, Mono & Braid 12 -40 lb, 4 sections, 27" length
KRD-002 Tarpon Trek Spin rods
Permit Trek Spin KRD-006 7 ft 10 to 25 lb mono or braid. Low diameter lightweight blank with very fast tip . 4 sections, 25" length ,Mono or Braid 10 to 25lb
KRDE 013 Stand-Up 30- 50 and KRDE 014 Stand-Up 50- 80 Trolling RodsKRD019 Trek V- Jig 6 ft 6 & Trek V- Jig XT 6 ft 6 Rods KRD-009 Trek Boat rods 7 ft 20- 30lb & KRD- 010 Trek Boat rods 7 ft 30- 50lb-
---------------
--------------------------------------------------
-----------Fish Photos from 2014------
He caught it on 40lb tackle which puts him in the 50# class   New Club Record – 66.2
lbs! 
~~~-------
----------------- --------
Where did they come from and where do they go-- There are 10 years and older recorded spaghetti style tag studies showing some head south-- some into Mexico, some to the west and some even further to New Zealand- Newer and better studies need to be made--- maybe next years the BAC's Masters will incorporate Great Marlin Race which is used in conjunction of major fishing tournaments around the world to help better understand these migrations for a better fish science management-- Talk to your clubs about sponsoring a tag for next years Masters--- JD
The winner of the 2012-2013 IGFA Great Marlin Race (IGMR) is Peter Teakle of Lizard Island, Australia! The satellite tag he sponsored during the 26th Annual Lizard Island Black Marlin Classic was deployed in a 360 kg (794 lb) black marlin and traveled 2,577 nautical miles in 69 days, creating the second longest billfish track of the research program jointly run by the International Game Fish Association and Stanford University.
"That we've now seen the second longest distance of the IGMR project is amazing," said IGMR co-chair and Stanford University marine biologist, Dr. Randy Kochevar. "But the real win here is that in the past two years we have recorded a total of 31,000 nautical miles worth of data on open-ocean habitat usage available for scientists anywhere. Having access to this kind of data is what researchers need in order to better understand how these incredible animals are using the open ocean."The winning billfish track, as well as all the other satellite tag tracks generated by billfish tagged during the IGMR, are available on interactive maps on the IGMR website. We invite you to follow the fish and learn more about our billfish research program. 
----------
~~
~~~~~~~~~~~~~~~~~~~~~~----------------------------------------
-----------------------------
----------------------------------------------
------
A pending club record
for the Tuna Club of Avalon-- 51 lb White Sea Bass caught with 6 thread linen line, it's test is under 16 lbs ( dry) made from twisted lengths of linen flax. JD's tackle is the only tackle shop in the world which sells this fishing line!- Put a challenge in the game- JD
----------------------------------- -------Fish Photos 2013-----
~~~~~~~~~~~~~~
It's piscatorial soup of mixed sealife that beckons our shores let's see what happens through the course of this year.
June's Report - Bill, the Striped Marlin,Tetrapturus audax  has been following the west winds flow of Central Pacific Gyre's energy as it translates towards our West Coast, higher in latitude than he feels he's got a right to be but mother nature takes her course there and so will he, besides he's got those exploring genes in him and wants to wander around – soon he and his adventurous buddies will be riding those California currents south.   Quick as a wink and just as fast, he's finding he needs to be. At almost 5 feet long now he's appetite is becoming fond of the abundant Anchovies he's finding now. Although small they taste good, he just has to eat a bunch of them. The unusually warm water has spurred the hatching of  20 000 to 30 000 eggs per Northern Anchovy or Engraulis mordax from the Greek word Engraulis (European anchovy) and the Latin mordax (biting) they feed on plankton, primarily euphausids, copepods, and decapod larvae.  This year 39,000 metric tons of Northern anchovies will reach about 25 cm in length and a life span of about 7 years. Diel migrations occurs, remaining at depths during the day and approaching the surface in low-density schools at night. The eggs float, first with the major axis perpendicular and later with the major axis horizontal. Eggs hatch in two to four days, depending on the water temperature. Bill and company will have a steady diet of mineral and protein Omega-3 fatty acids, calcium, iron and selenium rich baitfish this summer.  Bill's southern cousins will soon be chased from the compounds of the Baja Peninsula and make their way around to the Pacific side where it's a little cooler in semi -tropical conditions.  By August they will visit the sunny shores of California. Those Hurricanes are quite distracting to ones appearance.
Bluefin "Tom" Thunnus orientalis  We made it-- Bluefin "Tom" Thunnus orientalis - we'll at least a few of us made it. In two and a half month's crossing some felt that urge to bend it to the north following that cooler flow of water but we stood our ground, followed that Magnetite in the neural pits of our snouts, being warm blooded we just swam a little deeper that's all. Made it here to the West Coast off Northern Baja to find the surface water a little too warm for our liking, the only place of relief was right up close to the beach where it upwelled cool water from a thousand feed deep and that's where those anchovies are. We'll stay around for a while till things heat up. June Gloom's overcast mornings are shorter with longer bright daylight hours now, Tom's staying deep unless it's overcast then come up or towards sunset when those choves came up following that Diel migration. Still only a adolescent at only 20 lbs and 2 years he's relying on the older mature 4 and 5 year olds of his kind, like freshmen and varsity players in high school they know the ropes. There's a lot to learn and not many teachers around, some of them have already followed the call of the North and on their way already.   Pesky gangs of their southern brown bronzed yellow skinned cousins are here too, greedy little brats they steal every scrap of food around. Tom and his black sheep cousin Stink Eye have bigger eyes which help in the chase of their favorite foods, California flying fish, Cheilopogon pinnatibarbatus californicus the largest member of the flying fish family. Laying egg sacks in the kelp beds of Cedros Islands where they, themselves were nurtured and now follow the course of the yellowtail and have come north in waves, the Leaping Bluefin will follow--
Mike our Yellowfin Tuna,  Thunnus albacares  For two hundred miles out to sea juvenile yellowfin are beings wept along with the California Counter Current as it moves up along the Baja peninsula  Fueled also by the El Nino event Michael and friends have reached 18 lbs and are growing quick, gulping down those Red Crabs their finding along the way. Hummm—like little lobsters –tasty, his own flavor will take on the trait.. Joined in their travels are the dinosaur reptilians of the sea, Chelonia mydas the Green sea turtles and the Caretta caretta, Loggerhead turtles who've like Mike's blue finned cousins have come across from Japan making the overseas 5600 mile crossing just to join in the party.
His bigger brother, Big Eye'd Charlie is along for the ride too. Stink-eye Charlie we'll call em', his lifespan is up at 12 years and he's had sex at age four, lucky guy.  He's a little different –he's hemoglobin is able to extracts oxygen efficiently in oxygen-poor condition. And heart has the ability to function effectively in cold subsurface water while following the vertical migrations of organisms into the deep scattering layers. Spending prolonged daytime periods as deep as a 1,000 feet deep preying on sources that the yellowfin does not have access to.  Charlie preys mostly on cephalopods in deeper waters but must periodically return towards surface waters to warm up and watch that afternoon's sunset
Mike and all his friends will be at our doorstep soon.
Happy Birthday Jack Yellowtail  Seriola lalandi   Coming to America-- one year old this month, he's weathered the storms of early life, gotten away from nasty sealion bites, diving long billed birds of prey and big lipped seabasses--- so far.  Pushing 20 inches now and 3.8 lbs with a birthday surprise to his diet's- Pelagic free-drifting red crabs they taste just like chicken lobsters of the sea  He's not the only one's, those overweight Calico Bass in the kelphood also relish them too, stuffing their faces with them like candy bars " Crunchy on the outside but good inside". They need to go in a diet.  Jacks older brothers and sisters, older by a year at 8- 12 lbs along with his parents sent word via Jonathan of the assault on their ranks, another 2569 of them taken this month, that 4,747 in 60 days, not counting the privates loss. Like following gospels they go up into that world "up there" and never come back- a fishy heaven sort to speak. Jack will leave his home now and follow the flow of warm water to the north seeking shelter wherever it's found. His parents and siblings have crossed above the border undetected and finding better lodging and table fare while visiting old uncles and aunts in their retirement homes of Clemente and Catalina Island.
Thunnus alalunga, Art, our four year old North Pacific Albacore is 12 ½ lbs , 25 ½ inches and has come to a border of his own, being chased from the west with the unpleasantries of oppressive summertime heat and to the southeast a finger of that high salinity low oxygen waters that's moving in– ahh but to the north there's a path of the beautiful California Current, rich in anchovy larvae, pinheads and sauries. Let's hope Art finds his way towards our offshore banks before heading north, maybe that tongue of the C C will finds its way below Clemente and 60 Mile Bank, We'd like to meet him again.
The Dolores's, Dorado Coryphaena hippurus and her girlfriends are still on hold, We'll see them in the middle of the summer
Strong currents run deep – better sharpen you hooks!  JD
 Jan's report - The first Striped Marlin, Tetrapturus audax we see in the season may have been born in the Kuroshio Current a year ago as it flows the ocean's gyre off the North Pacific. he's 35 lbs now and festive, having survived the snatching beaks of nasty birds and other deep sea gobblers from below. Later on in the season if currents allow are other year old brothers and sisters of his breed are off  the Southern tip of Baja by a thousand miles. Moms were 2 years old and 60 inches when she spawned 20 million eggs with hopes that Dad could fertilized them to develop into planktonic, lecithotropic larvae. Conditions this past year in the northern hemisphere favored a better recruitment of hatching larvae to drift and grow. So right now somewhere swimming in the waters above the Hawaiian Islands or south off Baja hundreds perhaps thousands of miles a 3 or 5 foot long striped marlin lives—let's call him "William" or Bill for short.  Bill will live in the upper surface layer on all sages of his life. Bluefin Tuna, Thunnus orientalis, Born of 5 ft long parents and 130 lbs late in the summer four years ago off the southern coast of Japan, now as one or two years old weighing in at  5 to 10 lbs they begins a two month, 6,000-mile cross-oceanic migration to the Eastern Pacific off Baja California in the Spring. After two to four years foraging off the Mexican and California/ Oregon coastlines they'll be returning home to those same Western Pacific waters where born and remain for another 15- 25 years 10 ft and a thousand pounds, slow growing in later life. While here along our coast the younger fish travel further to the north onto Central Calif. in late springtime and return towards the south as Fall and Winter approaches, the older fish mostly stay south off Baja.  Magnetite, a mineral found in neural pits in their nose detects the earth's magnetic field for their navigation. Warm-blooded they can heat their bodies 11° F warmer than surrounding water, that's why the fight so well. Must consume 5% of their body weight daily and must continually swim with their mouths open to force water over their gills. We'll call him "Tom" the Bluefin tuna. –Hi Tom. His buddy the Yellowfin Tuna,  Thunnus albacares , "Mike" we'll call em', he's a resident here on the West Coast part of the California Current Large Marine Ecosystem and doesn't migrate across the Pacific like the Bluefin. Mike's a fast grower as a youngster, feeds on plankton and then small fish, krill, squid and. crustaceans. At one year he'll be 24 inches long and might grow to about 300 lbs . Mike reaches maturity at about 2 years and around 40 inches but he doesn't live that long with average age being just 5-6 years old, he'll be a old man at 8 if he makes it that long. March 24" grows about 2" a month, by Dec 40 inches, March 24", Apr 26, May 28,June30, July32, Aug34, Sept36, Oct38, Nov 40 Dec And the North Pacific Albacore, Thunnus alalunga, "Art" ( Starting this lastJan 2014 he's only 18 inches and 5 lbs ) and his family we hope to see more of, they travel around a lot. Mon and Dad matured at around 35 inches, 28 lbs at 5 or 6 years old and hope to see 13 years.  Albacore are an iteroparous species that breeds seasonally only once a year. Moms lay eggs that are fertilized externally (oviparous) by scatter their eggs throughout the ocean months from November to February which float to within a foot or so of the surface, wave actions mixes them with Dads offerings. That's what a lot of birds are picking at.  A 40 lb female can produces 2 to 3 million eggs then migrates towards two regions of the Northeast Pacific. One towards the northern part of Baja the other is off the coast of Washington and Oregon. In the warmer waters off Baja they make dives to depths exceeding 656 feet during the day and stay near the surface at night, while off the coast of Washington and Oregon they stay near the surface the entire day. Albacore move across the Pacific during the fall and appear in Japan in their late winter/spring fisheries then migrate back to North America. Art never really rest; he's always on the move because of their demand for oxygen and he eats one-quarter its own weight in food a day. Yellowtail,  Seriola lalandi We've got to call him Jack—Jack comes from the Cedros Islands area.  Last July his Mom and Dad were 4 year olds and 10 pounders Mom laid 450,000 eggs that year – she hopes to live to a ripe old age of 30 years and give off 4 million. Jacks been growing quickly he's a pound now, darting in and out of kelps beds chasing food and/or not being food himself.  By this summer he'll be a year old and 4 lbs, by 5 years he'll be 16 lbs.  
Good luck this seson- JD
~
some day chickens- some days feathers
------------------------------------------------------------------

--------------------- no longer fishing the reefs and kelp beds off Laguna-- the Forbidden Zone-- -
Those pleasant trips below the harbor - enjoying the scenery and good fishing with your children, wife or friends are no longer permitted due to some idiotic woman and the Laguna Beach city council-- shame on them- Hope they all get voted off their positions,
-----------------------------------------------------------------------------------------------------------------------------------------------------------------